French Alps murders: Victim had money worries over home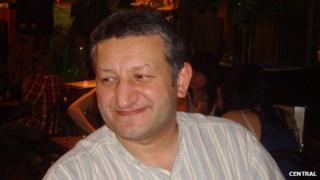 The British-Iraqi man shot dead in the French Alps was worried he might lose ownership of his family home, a BBC investigation has found.
Saad al-Hilli was in dispute over the ownership of the Surrey property with his brother, Zaid.
Friends of Saad say he was worried the disagreement could end up in court.
Zaid al-Hilli has previously been in touch with the police who are treating him as a witness and not a suspect in the case.
Saad al-Hilli, 50, an Iraqi-born British citizen, was found dead in his BMW car along with the bodies of his wife and her 74-year-old mother earlier this month in Annecy. A French cyclist was also shot dead.
Their daughter Zainab, seven, was found shot and beaten and another daughter Zeena, four, was found hiding under bodies in the car.
BBC Radio 4's The Report has spoken to a number of Mr al-Hilli's friends including Zaid Alabdi - a dentist who trained alongside Iqbal al-Hilli, Saad's wife.
Mr Alabdi says he spoke to Saad the day before the al-Hilli family travelled to France.
In the conversation, Saad explained how a solicitor had been trying to resolve the issue between the brothers so they did not have to go to court.
"Saad said his brother had sacked his solicitor and he had no communication with [his brother] anymore," Mr Albdi said.
Saad al-Hilli and his brother Zaid jointly owned the home in Claygate, Surrey, where Saad lived with his family.
Saad told friends his brother wanted the money for his share of the house - approximately £400,000.
The BBC has also learned Saad had changed the locks on his house to prevent his brother, Zaid, gaining access. Mr Alabdi says the issue was weighing on Saad's mind.
"Since I have known Saad the only problem in his life is this recent disagreement with this brother."
Mr Alabdi does not think the dispute is connected to the killings and says he could not think of "anything or anyone" that would lead to Saad and his family being targeted.
A couple of days after the killings, French police said that a possible dispute over money between Saad and his brother was one of the lines of inquiry in the investigation and Zaid would be interviewed "as a witness" by French officers "just like any other family member".
Another friend of Saad al-Hilli, Gary Aked, told The Report that the brothers had had a number of properties which they had been fixing up.
"Saad was very good at doing up a building, he could turn his hand to anything.
"He had a property in France that I know of, and he was rebuilding the roof, the floors, everything in it."
Mr Aked says Saad and Zaid got on very well.
"They were very close and around me Saad was always joking and laughing, Zaid was more professional - I never heard him tell a joke - but they got on great."
Saad frequently talked to friends on instant messaging services and the BBC has seen records of some of these conversations detailing the dispute between the brothers.
They suggest it as a bitter dispute and had clearly upset Saad. The friends requested not to disclose the specific details as they do not want to upset the al-Hilli family.
James Mathews is an engineer who became friends with Saad when their daughters attended the same playgroup. He says Saad was "worried" about his house.
"He had spent a lot of time and effort on his house and he was worried after his father had died that he might not be able to stay there."
Mr Mathews said he was aware of the dispute as Saad had asked him to be a witness if the case came to court.
"He said: 'I've put all my life and all my money into this house and it would be… heartbreaking to have to sell it.'."
Investigators in France and the UK have been examining Saad al-Hilli's business interests. He worked as a mechanical engineer at Surrey Satellite Technology, which makes satellites for emerging democracies.
The company was recently bought by defence giant EADS, which has raised questions among conspiracy theorists that Saad al-Hilli's murder was work-related.
Gary Aked, who first met Saad in the early 1990s when they worked together, does not believe his work would have put him in any danger.
"He wanted to work on engineering projects without the politics that went on in some defence areas," he says.
"He has never worked at any other company that I know of that has given him sensitive work to do."
Investigators are also examining Mr al-Hilli's connections to Iraq where he was born - he came to Britain in the 1970s. Fellow engineer James Mathews says Saad was last in Iraq two years ago.
"They had a family house in Baghdad, but I think that had been sold as a building plot because it wasn't worth going back there for. I think they got rid of that and that was Saad's last tie with Iraq."
French police are continuing to follow multiple lines of enquiry and the French prosecutor leading the case has warned that it could take years to solve.
Hear more on BBC Radio 4's The Report on Thursday, 27 September at 20:00 BST. You can listen again via the Radio 4 website or The Report download.