Abu Hamza-style delays source of 'fury' - Chief Justice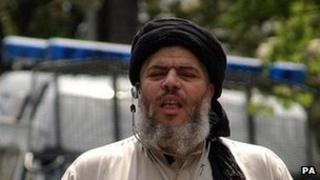 The Lord Chief Justice has said legal cases which go on for years - such as that of Abu Hamza al-Masri - are a "source of real fury" to him.
Lord Judge, the most senior judge in England and Wales, told reporters that any case taking eight years was "not fair to anybody - it's not right".
On Wednesday, a High Court judge temporarily halted Abu Hamza's extradition to the US.
The preacher and another man launch a last-ditch appeal next Tuesday.
Abu Hamza is also asking the High Court to intervene to return his confiscated British passport.
Speaking at his annual press conference, Lord Judge said he could not comment on any individual case.
But he added: "Any case that takes eight years through a whole series of judicial processes to come to a conclusion - and you've made the point that it hasn't yet come to a conclusion - is a source of real fury to me."
Abu Hamza was arrested on a US extradition warrant in London in May 2004 for allegedly planning to set up a terrorism training camp in Oregon and assisting in taking hostages in Yemen.
A lengthy legal battle, involving judges from the High Court and the Court of Appeal, home secretaries, the House of Lords and the European Court of Human Rights, appeared to reach its conclusion earlier this week when the European Court of Human Rights said it would no longer stand in the way of the extradition of the cleric and four other men.
The men include Babar Ahmad who has been held for eight years without trial, a record for a British citizen.
Lord Judge said: "What you need is a process in which all the points which need to be addressed are addressed once and then there is an appeal process and it comes to an end.
"Any case that takes eight years - unless there's some extraordinary explanation, like the parties don't want it, they're not in a hurry - is unacceptable. People have to live their lives and they have to live their lives knowing where they stand."
He said that, in cases of alleged terrorism, there was "a great public interest in disposing of them, fairly, justly, but with speed".
Lord Judge was also asked about a range of other issues affecting the judiciary including a lack of women and people from ethnic minorities being appointed as judges.
He said it "concerned" him but that imposing quotas would be "insulting".
Passport plea
On Wednesday, a High Court judge ordered that neither Abu Hamza nor another of the men, Khaled al-Fawwaz, could be extradited before an urgent hearing of potentially new material in the cases.
The BBC understands that Abu Hamza's application will focus on the state of his mental health - but the preacher is is also asking judges for his confiscated passport to be returned.
In a claim on Tuesday, Abu Hamza's legal team state they want a judicial review of "the decision (by the Home Secretary) to recall the claimant's British passport and to refuse to return it, and the refusal to provide a photocopy for legitimate purposes."
The claim says that he needs the document to "satisfy prospective legal representatives in the US of his identity and to satisfy local legislative requirements."
Ministers stripped Abu Hamza of his citizenship in 2003. But the preacher challenged that decision and eventually won, arguing that he had been left stateless because he had long ceased to be Egyptian.
Abu Hamza's lawyer says that her client remains a British citizen. He had been issued a new passport in November 2011 which was held by the governor at Belmarsh Prison. But weeks later the Passport Service asked for it back.
Separate legal papers in the case of Khaled al-Fawwaz reveal that he wants judges to stop his extradition because there are internal US government telexes questioning whether he should be on an official list of terrorism suspects. As of this month, he remains on the official US list.