Newspaper review: Rochdale 'dreadfulness' sinks in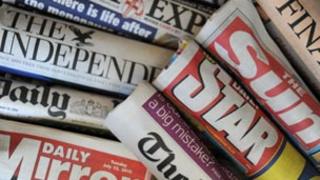 Many of the UK papers contemplate the aftermath of a report that revealed police and social services "missed opportunities" to stop the grooming of young girls in Rochdale, Greater Manchester.
The Times reports that it has "taken some days for the full dreadfulness" of what happened there "to percolate" into public consciousness.
"Unforgivable" is the word used by the Daily Mirror to describe the scandal in which authorities were unable to protect girls as young as 10 from years of sexual abuse by older men.
One victim describes in the Sun what the paper calls "her appalling ordeal".
"Fear of wrongly being labelled racist" was perhaps a reason why authorities did so little, explains the Daily Mail.
The search for a missing 15-year-old girl and her teacher continues, and the papers carry several accounts of young women's affairs with older men.
"I was deluded," Rachel Russell tells the Mirror.
Jenny Hughes, in the Daily Telegraph, adds: "I didn't feel that I was being exploited," but now she thinks, "someone should have stopped us".
The columnist Jan Moir in the Mail says the situation amounts to "the abduction of a child by a scheming adult".
'Common sense'
Former England captain John Terry gets little sympathy after being found guilty of racially abusing a player.
The Daily Star says fans will think the four-match ban "too soft" and the fine of £220,000 no great penalty for a man who earns that much in a week.
"Terry gets off lightly," the Guardian adds. "But his reputation may not recover."
The Daily Mail calls him "the pariah", while the Independent reads: "J.T. Captain. Leader. Legend. Racist."
Judges are often pilloried by papers, but Lord Chief Justice, Lord Judge, is praised for telling burglars they should accept the risk of being shot.
The Daily Express commends him for "speaking up for the rights of householders".
The paper says it is "a disorientating experience" to catch members of the judiciary "talking common sense".
Finally, the Sun cannot stifle the urge to comment that the judge's words were in fact "well judged".