Arthur Scargill in NUM court battle over London flat costs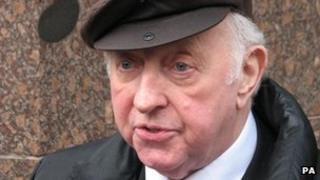 Former miners' leader Arthur Scargill has gone to the High Court to fight an attempt by his union to stop paying the cost of his London flat.
Mr Scargill, 74, says he was given use of the rented three-bed Barbican flat for life when he became president of the National Union of Mineworkers in 1982, a tenure that lasted 20 years.
He says under the union's rental terms he should have use of it until he dies.
The NUM says maintaining the flat costs £34,000 a year, which it cannot afford.
The union paid rent and expenses for the flat - rented from the Corporation of London - until 2011, apart from a period between 1985 and 1991 when Mr Scargill paid for it himself.
Fuel allowance
Counsel for the NUM, Nicholas Davidson QC, argued the case was about whether an obligation existed - not whether one ought to exist.
If it did exist, he added, Mr Scargill was entitled to have the benefit of it.
Mr Justice Underhill was told the court action concerned whether the NUM would have to meet the apartment costs for the rest of Mr Scargill's life and the life of his widow, should he leave one.
The court was also asked whether there was a limit to the fuel allowance for Mr Scargill's house in Barnsley, South Yorkshire, and if the NUM was expected to meet the costs of its security system and his annual tax return for the rest of his life.
Mr Davidson said that the litigation, which will look at documents dating back 30 years, was concerned with identifying what terms were agreed between duly authorised representatives of the NUM and Mr Scargill.
Timothy Pitt-Payne QC, counsel for Mr Scargill, argued he was entitled to the retirement benefits set out in employment contracts with the union and following decisions made by the union and its constituent bodies.
Mr Pitt-Payne also said he would seek declarations that the NUM should pay for the Barbican flat, including expenses from June 2011, and for the fuel, security and accountancy costs incurred by Mr Scargill since they were stopped in April 2010.
The hearing is due to take evidence from a number of witnesses, including Mr Scargill, and is expected to last for a week.
Mr Scargill was president of the NUM until July 2002 and led the union during the year-long miners' strike from 1984 to 1985.
In 2010 he was told he no longer qualified for full financial membership.