Afghan interpreter 'betrayed' as UK rejects asylum bid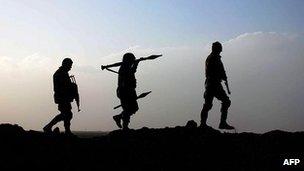 An Afghan man who was badly injured by a Taliban bomb while working as an interpreter for British forces in Afghanistan has been told he has not been granted asylum in Britain.
The UK Border Agency (UKBA) told the 25-year-old that his asylum application was being rejected because he had given insufficient proof of his identity and work.
It also said that his claims of death threats to himself and his family by the Taliban were not accepted.
The man - whom the BBC has agreed not to name fully on its website in order to protect his family in Afghanistan - said he was bitterly disappointed by the decision.
Mohammed has shown the BBC pieces of evidence - including letters from several of his British Army bosses and nine identity cards - which make it clear he worked for British forces in Afghanistan for around five years and for American forces for two years prior to that.
His body still bears the scars of the Taliban bomb which blew up the unit he was working with in Sangin on 14 November 2007 - an attack that killed the British Army captain, John McDermid.
The Afghan interpreter suffered shrapnel wounds to the head, neck, arms and chest and was deaf in one ear for over a year. He still suffers from headaches and depression.
Mohammed claimed asylum in the UK in 2011 and has been living in Leicester while waiting for a ruling from the UKBA.
But the agency told Mohammed he had provided insufficient proof of his identity and work with British forces, despite showing nine military ID cards, all genuine, as well as several references and photos of himself being treated for his injuries at Camp Bastion's field hospital.
At least 21 Afghan interpreters have been killed in the past five years and many more wounded.
Most worry about what will happen to them and their families when British and Nato forces leave.
Mohammed says he fears for his life back at home as a direct result of his work with British forces in Afghanistan.
"We believe that what we were doing was helping our people, our country.
"It is a risk, because people in Afghanistan look at interpreters as those who betrayed my people, my country and my religion by working for the British forces.
The UKBA said there was no evidence that his life was under threat if he had remained in his homeland, even though Mohammed received threatening calls and letters from the Taliban.
"The Taliban look at us as spies," Mohammed told the BBC.
"I was receiving phone calls telling me that we will cut your head off, your family's head off - and we will kill everybody in your family.
"This thing was happening almost every day."
The UKBA also said there were "significant inconsistencies" in the interpreter's claim, but it would "consider any new information which came to light". It said Mohammed would be able to appeal.
Among its reasons for refusing his claim for asylum are inconsistent spellings of his Afghan name in English, although that is not unusual in names that have been translated from Pashtun or Dari.
In a statement, a Ministry of Defence spokesperson said: "The MoD is aware of the case and is investigating the circumstances.
"We value the contribution of all our locally employed staff, who play an extremely important role in supporting military operations in Afghanistan.
"Immigration matters are not the responsibility of the Ministry of Defence."
Army officers say they are now doing their best to try to find records of Mohammed's employment in Afghanistan to give to the UKBA.
Several officers wrote references for Mohammed, but agency officials complained that most were photocopies and that some referees had misspelled his name.
Defence Secretary Philip Hammond told parliament in September that the MoD was working on a programme to ensure the protection of those who had worked with the British after 2014 - when UK combat forces are due to leave Afghanistan.
Mohammed, whose asylum case has already been raised in parliament, has said he will appeal.