Hague gives cybercrime warning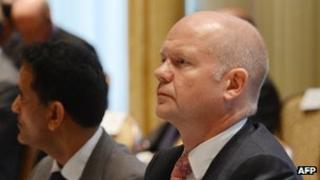 It has never been easier to become a cybercriminal, Foreign Secretary William Hague has warned an international conference in Budapest.
He told delegates that cybercrime was "one of the greatest global and strategic challenges of our time".
Mr Hague highlighted the UK's resolve to tackle the problem - it is spending £2m setting up a cybercrime centre.
And he warned that attempts by governments to block controversial material was doomed to failure.
Mr Hague said cyber attacks were "criss-crossing the globe from north to south and east to west - in all directions, recognising no borders, with all countries in the firing line".
He gave the example of a well-protected, unnamed company that had intellectual property stolen by hackers that was equivalent to 20 million A4 pages.
The foreign secretary also revealed that criminals were selling off-the-shelf malicious software packages that can target people's bank accounts, for as little as £3,000.
Such deals sometimes included access to a 24-hour technical support helpline, he added.
He said the new UK centre would draw on the expertise of a network of eight universities researching the issue and would offer other countries assistance in dealing with the problem.
'Unstoppable tide'
Mr Hague also drew attention to countries that use the internet against their own people by, for example, shutting down the local network at times of unrest, or criminalising legitimate self-expression online.
"Those governments who attempt this are erecting barricades against an unstoppable tide," he said.
Mr Hague, who was at the conference with Cabinet Secretary Francis Maude, said democratic government should "err on the side of freedom" even when the internet could potentially provoke crises.
He acknowledged the difficulties caused by a "contemptible" anti-Islamic video made in the US depicting the Prophet Muhammad as a womaniser.
The film sparked protests across the Middle East, North Africa and Asia.
But he said efforts to suppress the internet were "wrong and bound to fail over time".
"If we go down that path, we begin to erode the hard won rights of freedom of expression," he said.