Newspaper review: rail franchise crisis prompts derision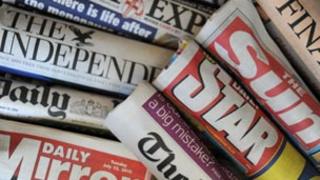 The government's cancellation of the new contact to run the West Coast Main Line prompts widespread derision.
The Daily Telegraph accuses the Department for Transport of delivering a masterclass in bungling.
"Duffers hit the buffers" is the headline of the Daily Mirror's leader, which describes the affair as a fiasco.
A cartoon in the Star shows the face of David Cameron on the front of a train, with the caption: "The next government shambles is arriving on platform ten."
Incompetence of officials
The Times thinks ministers were right to halt the franchise handover, but believes that does not diminish the incompetence of officials.
The Independent suggests that anyone with a GCSE in maths and a calculator could have averted the disaster, by checking the civil servants' sums.
There's anger in the Sun that taxpayers will pay £40m to resolve the crisis.
Most of the front pages feature images of the distraught mother of April Jones, the girl missing since Monday.
Desperately painful
The statement by Coral Jones at a news conference is described by the Daily Express as heartbreaking.
The Daily Mail says it was a desperately painful glimpse of the enduring torment she is suffering.
For the Guardian the appearance before the cameras by April's mother was both "agonising" and "heart-wrenching."
The Daily Mirror features a photograph, released by the police, of a man walking along a river bank and asks: "Is this April's kidnapper?"
Banking crisis
The Financial Times gives an up-beat assessment of a new EU report on how to avoid a repeat of the banking crisis.
The Daily Telegraph is one of several papers to report on a cat called Omar.
A British couple brought the animal back from Egypt at a cost of £6,000 - but he has now gone missing.
The situation is summed up by the Daily Express as a "paw show."
The Sun's headline on the story is: "Losing a £6K moggie is so unpharaoh."