Wet summer sees visitor numbers fall at UK attractions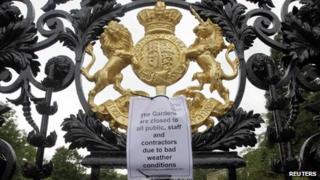 The wettest summer in a century caused visitor numbers to plummet at many of the UK's top tourist attractions, new figures show.
Data from the Association of Leading Visitor Attractions (Alva) also suggests the Olympics had a negative impact on visitor numbers in London.
Some attractions in the capital hosted 60% fewer visitors than usual during the two-week period of the Games.
Visits to outdoor-based sites were the worst hit by "appalling weather".
London Zoo, the Tower of London and Kew Gardens are just some of the attractions that saw a dip in numbers over the summer.
Visitor numbers also fell throughout England and in Scotland, though not as markedly as in the capital.
Alva chief executive Bernard Donoghue branded the figures "sobering reading".
He added: "The summer of 2012 has been a difficult time financially for our most popular and best-loved visitor attractions.
"For gardens and outdoor attractions across the UK, the appalling weather during much of the year has led to one of the worst trading periods since 2001 - the year of a foot-and-mouth disease outbreak."
Alva said visitor numbers to garden and leisure sites in London were down by 21% over the summer.
About 20% fewer tourists visited the heritage and cathedral sector and the capital's museum and galleries attracted 13% fewer patrons.
Mr Donoghue added: "For London attractions, the Olympic period was one of their worst trading periods in living memory and for visitor attractions, the summer is their equivalent of retailers' Christmas.
"Once lost, the business can't be won back".
Mr Donoghue insisted that Alva viewed the Olympic period as a short-term loss for long-term gain.
"We are working with the local and national tourist boards and others to turn the millions of Olympic TV viewers who loved how Britain looked into visitors who will come here in the next months and years," he added.
Alva's 43 members manage nearly 2,000 tourist sites which attract over 100 million domestic and overseas visitors each year.