Hacked police blogger Richard Horton wins Times damages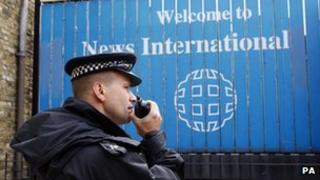 An anonymous police blogger, whose identity was revealed after journalists at the Times hacked his email, has been awarded £42,500 ($68,000) in damages.
The News International newspaper named detective Richard Horton as Nightjack's author in 2009 after the High Court refused to grant him anonymity.
NI will pay damages and legal costs.
Mr Horton was issued a warning by his employers Lancashire Constabulary after his award-winning blog exposed the realities of modern-day policing.
Mark Lewis, the lawyer representing Mr Horton, said despite the large financial settlement, "nothing can undo" the intrusion into his private life.
In a statement to the New Statesman magazine, Mr Horton said he was "happy to have settled" with the newspaper.
'Professional behaviour'
"I can now put that incident behind me and get on with my life," he added.
The Lancashire detective sued the newspaper for damages for breach of confidence, misuse of public information and deceit.
He was given a written warning by senior officers, who said parts of his public commentary "fell short of the standards of professional behaviour expected of its police officers".
The Times revealed his identity after the High Court decided not to award Mr Horton an injunction, preventing the publication of his identity.
However, the court was not told at the time that the information was, in part, gathered via email hacking.
Mr Lewis confirmed a settlement had been reached, although could not comment further as police are still investigating the actions of the Times journalist as part of Operation Tuleta, Scotland Yard's ongoing inquiry into email hacking by the media.
He said: "Although a substantial financial settlement has been achieved there is nothing that can undo the effect of the intrusion in the first place."
In his blog, Mr Horton chronicled his work as a detective in an unnamed UK town with descriptions of local criminals and his struggle with police bureaucracy.
It won the Orwell Prize for blogging in 2009, but he has not written since his identity was exposed.
The Times Editor, James Harding, apologised for the incident while giving evidence at the Leveson Inquiry into press standards in April 2012.
NI published the court's decision in the Times on Tuesday but declined to comment further.