Computer 'glitch' postpones News of the World hacking hearing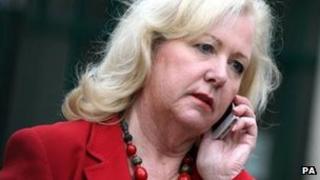 A computer glitch has forced a judge to delay a hearing into phone hacking at the now defunct News of the World.
Lawyers for News Group Newspapers (NGN), the ex-NoW publishers, told the High Court a "technical issue" with "data extraction software" is to blame.
The software is used to search millions of documents for evidence of hacking.
The court was due to hear a civil case brought by Mary Ellen Field, an adviser to supermodel Elle MacPherson who lost her job after her phone was hacked.
The judge in charge of the hacking claims, Mr Justice Vos, has adjourned the hearing for five weeks.
Painstakingly retrieved
Lawyers for NGN are attempting to dismiss a claim for damages by Ms MacPherson's former business adviser Mrs Field on the basis that no phone interception took place.
Michael Silverleaf QC for NGN added that the software glitch was "unlikely to be a major problem" but thought it better "not to proceed with this application today."
About 185 million emails and documents dating back to 1995, which were deleted, are now being painstakingly retrieved after the High Court issued a series of orders demanding they be disclosed.
Lawyers for the phone hacking victims told journalists outside court that the problem had only come to light at 19:00 BST on Tuesday, when NGN informed Mr Justice Vos there was a problem.
They expressed their concerns that the process of reconstructing and disclosing evidence contained in previously deleted email files, possibly vital to their claims, may have been compromised.
Mark Lewis, one of the leading lawyers for phone hacking victims, and a claimant himself said: "It raises a question of the reliability of the reconstruction of missing documents.
"It might be, and is likely, that we will never know the full extent of the documentation," Mr Lewis added.
Mrs Field was hired as a business advisor to former supermodel and actress Elle MacPherson in 2003.
After details about Ms MacPherson's business affairs and private life were seemingly leaked to the press, Mrs Field was falsely accused of being an alcoholic and sent to a rehabilitation centre in America.
She was then made redundant.
Ms MacPherson was one of many high-profile figures targeted by private investigator Glenn Mulcaire, who was jailed for six months in January 2007 for passing information from intercepted voicemail messages onto NoW journalists.