Annihilation legal high 'should be banned'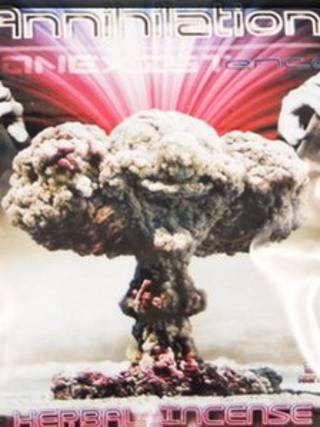 A "legal high" substance that has left nine people needing hospital treatment should be banned, the government's drug advisers are to recommend.
Prof Les Iversen, of the Advisory Council on the Misuse of Drugs, said a synthetic form of cannabis known as Annihilation was "particularly potent".
A formal recommendation to ban the substance throughout the UK will go to Home Secretary Theresa May next week.
The substance is currently legal and can be bought online.
A number of hospital cases related to its use have been reported in Scotland.
Prof Iversen, who is the chief drugs adviser, said some Annihilation users become "severely agitated" and "over stimulated".
He said hundreds of different chemical compounds similar to Annihilation would be covered by any legal ban.
The Advisory Council on the Misuse of Drugs is also calling for greater public awareness of the dangers of laughing gas - nitrous oxide - and helium.
Both gases are legal and have medical or commercial uses but can be lethal.
There were 42 deaths from helium last year. Most of them were thought to be suicides.
Nitrous oxide has also been linked to a small number of fatalities.