Bali bomb victim Dan Braden remembered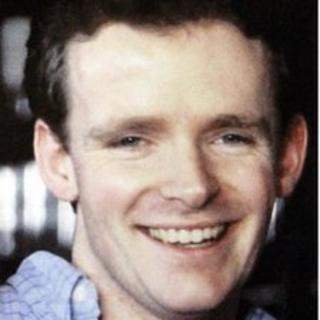 The father of one of the 26 British victims of the Bali nightclub bombings, which killed 202 people 10 years ago, reflects on the attacks, his son and the trust set up in his honour.
The Bradens spent Friday morning like the previous nine on 12 October - in quiet reflection at the grave of their son and brother in the West Sussex village of Poynings.
Ten years have passed since 28-year-old Daniel was killed along with four team-mates from the rugby squad they had entered in the Bali-10s tournament.
"Until you've been through it, you don't understand what grief is about," said his father Alex, 65.
"I've lost my father and mother which is very sad, but normal if you like. When you lose your kids it's always very, very tough.
"It's still very emotional, we still miss him very much. He was a character, he was tough mentally and full-on."
Daniel, a Chinese language graduate from Edinburgh University and former deputy head boy at Brighton College, was living in Taiwan as a sales manager at the time of his death.
"He was there with his team for that long weekend. They'd won three matches that day so had supper and went out for a few beers ready for the next day," Mr Braden said.
"Five of his team were killed out of a small group, they were all injured in different ways."
Mr Braden was in Corsica when he first heard of the bombings in a phone call from his daughter Claire who had taken a call from Daniel's girlfriend saying he was missing.
He flew to London and straight out to Bali with his son's godfather, becoming one of the first UK families to arrive on the devastated island. The British police travelled on the same plane.
"We went round all the hospitals and morgues, it was a mess, there were piles of bags," Mr Braden said.
"We were trying to find Dan alive or dead but we didn't find him at all. It took six weeks to identify him and send his remains back to the UK."
After visiting his son's girlfriend in Taipei, it was on the plane home that he determined to create something positive out of the tragedy.
At Daniel's funeral a month later he announced the launch of Encompass, a charitable trust which spreads intercultural understanding across countries.
The organisation takes youngsters aged 18 to 24 from different backgrounds, throws them together in an outdoor activity and teaches them to challenge their stereotypes and gain new perspectives.
Indonesians, Israelis, Palestinians, Pakistanis, Americans and Britons have all become lifelong friends after the sessions, bonded by their common human empathy.
The 1,200 or so youngsters who have attended Encompass's international programmes are trained in leadership and communication and sent home to repeat the lessons.
Programme manager Rori Donaghy said: "Over the past 10 years we've expanded an awful lot, next month we'll see Pakistani adults from Kashmir for first time, and we've got UK programmes now from different communities around London.
"With increasing polarisation around the world, we'll continue to bring emerging community leaders together - who have limited perspective on religion, culture and conflict - to improve communication and redress the balance."
Daniel's mother Mandy, sister Claire and father Alex will lay flowers at the London memorial to the British victims outside the Foreign Office on Friday before meeting other victims' families.
Mr Braden said he was conscious that his family were "very lucky" to have found such a positive way to rebuild their lives through the trust set up in Daniel's honour.
"Taking a positive view of it and building Encompass out of it was very, very good for us," he said.
"I hope we've done a lot of good for other people, but we've also done a lot of good for ourselves."