UK terror suspects held over Syria to be detained longer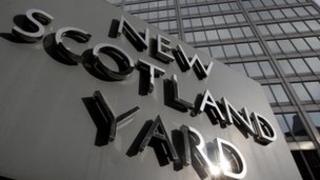 Police have been granted warrants to further detain a man and woman arrested at Heathrow Airport on Tuesday over alleged terrorism offences.
The pair, both 26, are being held on suspicion of travelling to Syria to support the commission, preparation or instigation of terrorism.
They were arrested at 20:30 BST on 9 October after their flight from Egypt landed at the airport.
The new warrants expire on Tuesday evening, police confirmed.
On Wednesday, it emerged the couple's possible involvement in the abduction of a British journalist in Syria was one line of inquiry in the case.
UK photographer John Cantlie - who had done work for the Sunday Times - and Dutch journalist Jeroen Oerlemans were taken hostage by Islamist militants in the war-torn country for a week in July.
After the ordeal, Mr Cantlie said one captor had claimed to be an NHS doctor.
Scotland Yard confirmed the couple were British nationals.
Officers from the Metropolitan Police's Counter-Terrorism Command took the pair to a central London police station where they remain in custody.
Two addresses in east London are being searched under the Terrorism Act in connection with police inquiries, the Met said.