Crime mapping website for England and Wales is expanded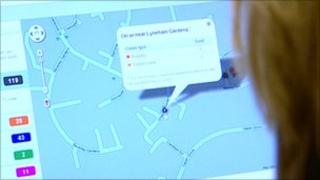 People in England and Wales can compare crime levels in their neighbourhood with other areas, following the expansion of a crime-mapping website.
The Home Office has widened the www.police.uk Compare Your Area tool to allow people to compare crime levels for a certain borough or district.
It comes a month before voters elect the first police commissioners.
Policing Minister Damian Green has said commissioners will give people "a voice" on how their areas are policed.
The website, the government's most popular online site last year, will also allow people to see how recorded crime rates have changed over the past three years from Monday, the Home Office said.
It will soon allow people to look at crime levels in smaller areas including villages and estates, and compare them with others, and will begin to feature mugshots of convicted criminals from the end of this month, it said.
The maps were launched in February 2011, allowing users to see which offences have been reported in their local streets by searching for a street name or postcode.
Elections for police and crime commissioners for England and Wales are due to take place on 15 November. They will replace existing police authorities in 41 areas.
The commissioners will be in charge of setting police priorities and force budgets but will not have any operational control.
The government hopes the move will increase the accountability of the police.
Mr Green told BBC Radio 4's Today Programme: "What they will do is for the first time ever give a democratic voice. At the moment no local person can have any kind of say over what the police authority does... Now there will be a single person to give them some voice."