Newspaper review: Chief Whip Andrew Mitchell in headlines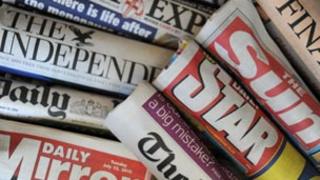 The disagreement between Chief Whip Andrew Mitchell and a policeman is firmly back on the agenda in a number of Thursday's newspapers.
After Labour leader Ed Miliband raised the subject in the Commons, an unnamed Conservative MP describes Mr Mitchell as "damaged goods" in the Independent.
Quentin Letts, in the Daily Mail, says Mr Mitchell "looked properly wretched".
Ann Treneman, writing in the Times, agrees that he looked miserable and calls him the "Chief Whipping boy".
Many column inches are used to analyse the second US presidential debate.
"Obama came out on top in a feisty debate," says the Guardian.
According to the Daily Telegraph, it is an open secret that Mitt Romney and President Barack Obama do not like or respect each other - and says this testosterone-infused debate confirmed this.
"Barack on track" says the Daily Mirror, which concludes that "Obama destroyed his rival".
The Daily Mail leads on the case of the stroke victim who was stunned by a Taser fired by Lancashire police, who had mistaken his white stick for a samurai sword.
The paper calls it an "extraordinary blunder" and says the police have been accused of behaving like thugs.
The Independent prints a picture of 61-year-old Colin Farmer walking with his white stick next to one of a Samurai warrior wielding his sword.
"Such trigger-happy cops," says the Sun, "should be kicked off the force."
David Cameron's announcement that energy companies will be forced to put customers on the cheapest suitable tariff is widely reported.
It is the lead in the Times, which says the announcement was hailed by one consumer group as "a big moment".
However, a price comparison website tells the Guardian that legislation could actually kill competition.
And the Financial Times's headline says the prime minister sparked "confusion in the energy market".