UK tourist killed in Australia car crash 'shortly after arrival'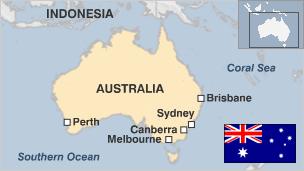 A UK tourist has been killed in a car crash less than hour after arriving in Australia, local media have reported.
The man is thought to have landed in the Australian city of Perth from London, and was travelling in a taxi when it was hit by an allegedly stolen car, reports have said.
It is thought the tourist and taxi driver died at the scene, while the second car's driver was arrested.
The Foreign Office said it was offering "support" to the UK man's family.
A spokesperson said: "We can confirm the death of a British national after being involved in a fatal car crash early this morning, 19 October, in Perth.
"We are in touch with local authorities and are offering next of kin consular support during this very difficult time."
The driver of the second car, a Toyota Landcruiser, is reported by local media to have been arrested at the scene and charged with manslaughter. He is being supervised by police at Royal Perth Hospital, reports have said.
After the incident, Assistant Commissioner Gary Budge said a police chase involving the stolen Toyota had been called off earlier.
He said: "This pursuit was aborted on Canning Highway in Victoria Park when the helicopter reported the vehicle had its headlights turned off.
"The police helicopter maintained observations of the vehicle, which subsequently crashed some time later at the Kewdale intersection.
"I want to emphasise that there is no evidence at this time to suggest the vehicle was being pursued at the time of the crash."
Related Internet Links
The BBC is not responsible for the content of external sites.