Jimmy Savile: BBC Northern Ireland checking visits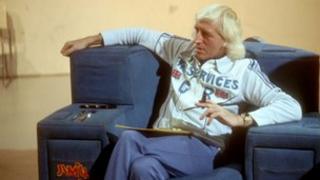 BBC Northern Ireland has confirmed that it is trying to find details about visits by Jimmy Savile.
Police in England investigating alleged abuse by Savile have said they are now looking at about 300 potential victims.
On Wednesday, Radio Ulster's Good Morning Ulster asked BBC Northern Ireland if it had checked how often Savile had visited its studios or premises during his career at the BBC.
Late on Thursday night BBC NI confirmed it was checking this.
"We're seeking to establish what if any records exist of any visits by Jimmy Savile to Northern Ireland on BBC business," the corporation said in a statement.
"Any relevant information will be considered as part of the BBC's reviews."
Good Morning Ulster has also been told by all the health trusts here that they have no records of visits to their hospitals by Savile.
In a statement, the Health and Social Care Board (HSCB) said: "We are not aware of any complaints to date.
"The HSCB, in conjunction with the PSNI, Trusts and other statutory organisations have robust arrangements in place to ensure the safety of children."
The sex abuse by the former BBC presenter has done "terrible damage" to the corporation's reputation, BBC Trust chairman Lord Patten has said.
He told BBC Radio 4's World At One programme the independent inquiries into the scandal were the best way to get to the bottom of what happened.
Police investigating the case have said say they are preparing to make arrests.
Several high-profile names could be questioned within days.