Riots response led to more gang violence, says CSJ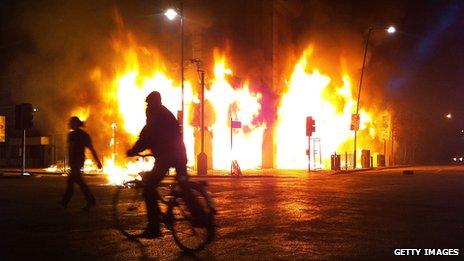 The response to last year's riots has led to more violence among some gangs, a think tank says.
A Centre for Social Justice (CSJ) report, to be published on Monday, says the arrest of leading gang members led to chaos in some areas when younger youths filled the power vacuum.
It calls for more support for families and communities to prevent young people joining gangs.
Ministers say a £10m fund is helping to target gangs and "seeing results".
A government spokesman said the coalition's strategy on violence and gangs made clear the problem could not be tackled through police enforcement alone.
The Home Office's report Ending gang and youth violence has already put a focus on early intervention to stop young people becoming involved in gangs as well as providing support to members wanting to break with their past.
The CSJ acknowledged the government strategy "put forward a range of positive initiatives" but says it appeared to be "losing commitment".
"If fully implemented, these are promising first steps. But contributors to this report have told us that this strategy is not translating into the genuine transformation of communities," it said.
The CSJ says many charities have been unaware the cash was available and accuses authorities of a lack of follow-up work with junior gang members.
It highlights a marked increase in the number of girl gang members and a rise in sexual violence within gangs.
'Nobody if you haven't killed'
The Centre for Social Justice was set up by Work and Pensions Secretary, Iain Duncan Smith, in 2004.
Prime Minister David Cameron promised an "all-out war on gangs and gang culture" following the riots which took hold of many English cities including London, Manchester and Liverpool.
A year on, the think tank asked organisations and charities how they felt gang culture had changed in the light of government response.
Many drew a picture of little or no progress, it says, and "some have even suggested that the problem is becoming worse".
It says: "Many in Whitehall regard the riots as a random one-off, and mistake the quashing of the disorder as control of the streets. They could not be more wrong.
"The alarming fact is that many streets across the country are besieged by anarchy and violence."
CSJ researchers spoke to people in riot-hit areas who reported a "marked increase" in the violent behaviour of some gangs, because of the removal from the streets of "elders" who had previously imposed a code of behaviour.
Such unwritten codes had meant, for example, that a rival gang member could not be shot while he was with his mother, it says.
The report describes an incident in which a young gang member held a gun to the head of a rival gang member's baby.
The person relating the incident remarked "you're seen as 'a nobody' if you haven't killed someone".
Jermaine Lawlor - a former gang member who now works for a charity - told BBC News the arrest of a gang leader could provoke its members to commit more crimes.
"It's almost like a vacancy is free," he said.
"The leader's not there and depending on what sentence they get, usually the underdogs step up and try to get that position, so there is a need for more crime because crime proves your status."
Youth worker Patrick Regan, who runs the XLP charity in south London and was interviewed by the CSJ for its report, said ministers had adopted a short term approach.
"I'm not going to run a project for six months... It is tough, it is a long haul and it may take a generation," he said.
'Serious social breakdown'
The CSJ says one in five of those arrested so far in London after the riots - 337 suspects - was a known gang member.
One of the CSJ's central conclusions is that the "drivers of gang culture" need to be addressed, as well as the symptoms.
The report says: "Nearly a year on from the publication of the government's gangs strategy, there is a danger that the enthusiasm for change developed after the riots is being allowed to go cold...
"The surest way of eliminating gangs is to try to ensure that children and young people never want or feel the need to join them.
"To do this we need to tackle deeper issues in our society and seek to nurture and support ever-strong families and stronger communities."
A government spokesman highlighted a network of Young People's Advocates to provide support to victims of gang-related sexual violence and the introduction of gang injunctions for 14-17 year olds.
"There are no quick fixes but we are seeing results. The Crime Survey for England and Wales shows that crime is down by 6%, and police figures show knife crime is down by 9%."
Related Internet Links
The BBC is not responsible for the content of external sites.