Clocks go back as Greenwich Mean Time returns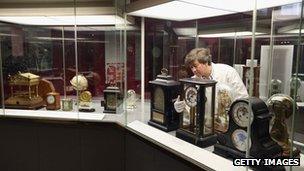 Most people in the UK have had an extra hour in bed, as clocks went back to mark the return of Greenwich Mean Time.
At 02:00 on Sunday, clocks went back to 01:00 as British Summer Time ended.
It means darker evenings until they are put forward again next year.
The Science Museum in London has more than 500 timepieces in its Measuring Time gallery and the end of British Summer Time means the 35 clocks still in working order will be changed.
"It is quite a difficult job and requires specialist skills," said Science Museum's conservator Richard Horton, who is overseeing the process.
The Wells Cathedral Clock - the second oldest surviving clock in England and the third oldest in the world, dating from 1392 - involves very specific challenges.
The clock is adjusted to GMT in a 20-minute process during which it is advanced by 11 hours.
A wide range of timekeeping devices are on display at the museum, from sand-glasses to water clocks and sundials to wristwatches.
Andrew Nahum, a senior curator at the museum, said the time adjustments twice a year represent "an intriguing part of national life".