Events held to support marines facing murder charge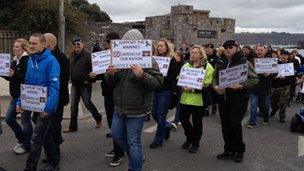 Events are taking place across the UK in support of five Royal Marines charged with murder over an incident in Afghanistan last year.
The unnamed five have been released from custody back to their unit, with restrictions on their movements.
The "show support" events are being held in cities including Edinburgh, Plymouth, Swansea, Norwich and London.
The Ministry of Defence says it would be inappropriate to comment further on the ongoing investigation.
The incident happened when Plymouth-based 3 Commando Brigade were in Helmand, on their fourth tour of duty in Afghanistan.
The events also coincided with the 348th anniversary of the formation of the Royal Marines.
Several former marines were among those who took part in a march in Plymouth.
One told the BBC: "We're just showing the guys that nobody has forgotten about them.
"There are people in the county who are behind them."
Green lapel ribbons - some bearing the words "Free the 5" - were being worn at the events by supporters, who say the charges are unjust.
The ribbons are also being sold to raise money to pay for any costs to their families.
Meanwhile, more than 63,000 people have "liked" a Facebook page in support of the marines.
All five marines - who have been granted anonymity - are charged with the murder of an unknown Afghan national.
The marines were arrested by the Royal Military Police after suspicious video footage was found on a laptop by civilian police in the UK. A plea hearing is due to take place in December.
It is believed to be the first time UK servicemen have been arrested and charged with such an offence during the Afghanistan conflict.
Related Internet Links
The BBC is not responsible for the content of external sites.