Newspaper review: Ash tree fungus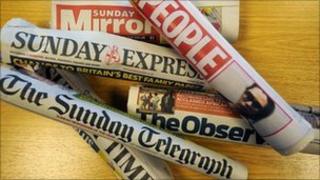 The threat that a fungus from Europe poses to UK woodland prompts keen concern in Sunday's papers.
The Sunday Telegraph reports the views of experts that it may already be too late to defend the nation's ash trees.
One expert tells the Observer the infection could potentially "change the landscape beyond recognition".
The paper uses a cartoon in the style of Winnie the Pooh illustrations to capture the sadness of felled trees with a sign that says: "One acre wood."
"A vicious civil war has broken out at the BBC," says the Sunday Times.
The Independent on Sunday detects "bitter infighting" inside the BBC and the Sunday Express thinks it is only the corporation "overlords" who don't realise the scale of the crisis.
The Mail on Sunday cartoon is inspired by the film Skyfall. It shows some executives running out of Broadcasting House, to get hold of Mr Bond.
They say: "We've got a bit of trouble and were wondering if you could help?"
Toby Young, in the Sun, berates the Rolling Stones for choosing to play the warm-up gig for their 50th anniversary tour in Paris.
He accuses the band of showing endless disrespect for their home country.
In an interview with the Times, the four members of the band explain their decision to play on.
"It's our duty," says Keith Richards. The music "takes you over", he says, and "the little things, the bickering" pale into insignificance.
"Winter's here," says the Sunday Express while the Sunday Mirror carries an image of a boy sledging in County Durham, as if to prove the point.
A cartoon in the Sunday Express shows a woman asking her husband: "Now can we put the heating on?"
Meanwhile, the People urges the chancellor to "Leave our pint alone."
It makes the case for cheaper beer to encourage more people to visit pubs, saving them from closure and adding to tax revenues as more beer is consumed.