Newspaper review: Ash tree fungus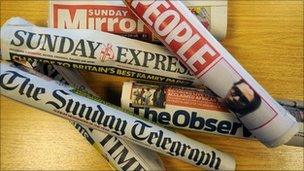 The threat that a fungus from Europe poses to UK woodland prompts keen concern in Sunday's papers.
The paper uses a cartoon in the style of Winnie the Pooh illustrations to capture the sadness of felled trees with a sign that says: "One acre wood."
They say: "We've got a bit of trouble and were wondering if you could help?"
He accuses the band of showing endless disrespect for their home country.
"It's our duty," says Keith Richards. The music "takes you over", he says, and "the little things, the bickering" pale into insignificance.
It makes the case for cheaper beer to encourage more people to visit pubs, saving them from closure and adding to tax revenues as more beer is consumed.
Related Internet Links
The BBC is not responsible for the content of external sites.