Tribute paid to British banker killed in hurricane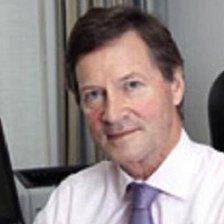 Tribute has been paid to a British banker who was killed when a hurricane hit the Bahamas.
The death of Timothy Fraser-Smith, chief executive of Deltec Bank and Trust, has left colleagues in "shock", a statement from the bank said.
He was among at least 59 people killed in the Caribbean as fierce winds destroyed buildings and flooded roads.
The Foreign Office has confirmed a British man died on 25 October.
Mr Fraser-Smith had been chief executive of Deltec Bank - which has a branch in Nassau - for 12 years.
He leaves a widow, Hilann Fraser-Smith and two children, Dominic and Tiggy.
Deltec bank executive chairman Jean Chalopin told BBC News that Mr Fraser-Smith was the victim of a "tragic accident" at his home in the Lyford Cay area of Nassau.
Mr Chalopin said: "Everyone - employees, associates and clients - appreciated his integrity, great professionalism, sense of humour and friendship. We will miss him dearly.
"Tim was a well-known and much-loved figure within the private banking community, not only in Nassau, but also in the various overseas territories where Tim and Hilann had been posted during his long career, with initially National & Grindlay's Bank and subsequently ANZ Bank."
Hurricane Sandy is now heading towards the US East Coast - where states including North Carolina, Virginia, Connecticut and Delaware are on emergency alert.
It is feared the hurricane could combine with a winter storm crossing from the west - intensifying its power and lashing the region with violent winds, rain and snow.
Related Internet Links
The BBC is not responsible for the content of external sites.