Storm Sandy: US flights cancelled by storm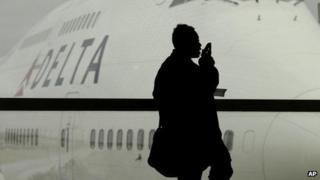 UK passengers flying to and from the east coast of the US face further flight cancellations and delays in the wake of "super-storm" Sandy.
At least 19 flights each way between the UK and New York's two main airports have been grounded for Wednesday, by BA, Virgin Atlantic, United Airlines and American Airlines.
Passengers are being offered the opportunity to rebook or get a refund.
Heathrow Airport urged people to check their flight status before travelling.
Flight disruption
The tally of flight cancellations between the UK and the US on Wednesday now stands at 19 in each direction.
Among the British-based operators, British Airways has cancelled eight return flights and Virgin Atlantic has halted two return flights.
United Airlines has grounded six departures and nine arrivals, and American Airlines has cancelled three departures.
Most cancellations are from Heathrow airport, however London City, Edinburgh and Manchester airports are all also affected.
Delta Airlines plans to run all its scheduled services from Heathrow to New York JFK.
Disruption is not expected to be as bad as on Tuesday, when 95 inbound and outbound flights were halted at UK airports.
Despite warnings from airlines, some UK passengers have run into difficulty.
Denis Anthony, from Leicester, told BBC News he was stranded in New York with his wife after their BA flight home on Monday was cancelled and the airline failed to notify him.
"We had been watching the news for days before the storm hit and contacted BA on Saturday who said the flight was still scheduled to fly, but took our mobile and email contact details and said any changes would be sent to us," he said.
"We checked email and text messages and there were none from BA. We found out from a relative in England that all flights were cancelled."
State of emergency
Storm Sandy lost its hurricane status late on Monday as it neared the US coast. It collided with winter weather systems at about 20:00 local time on Monday (midnight GMT), but was still generating hurricane-strength winds.
It caused a record 4m (13ft) surge of seawater in New York City, flooding car and subway tunnels and leaving much of lower Manhattan without power.
The storm has so far claimed the lives of at least 32 people across several states.
An estimated 50 million people could be affected, with up to one million ordered to evacuate homes. Some eight million homes and businesses are without electricity.
Public transport has been halted in several eastern cities, and an estimated 15,000 flights have been grounded.
Nine states of emergency have been called in New York, New Jersey, Massachusetts, Connecticut, Rhode Island, Delaware, Pennsylvania, Maryland and District of Columbia.
President Barack Obama warned Americans to follow emergency instructions if they are in the storm's path.
British national Chris Sell, who has lived in New York for 23 years, told BBC Radio 5 live: "I think the city has done an amazing job of getting us all ready for it. I really think we are all as ready as we can be.
"The flooding is the big thing. It feels a bit like it did after 9/11 but we are a tough breed here."
Jo Sensini, who lives in London, was supposed to leave New York on Tuesday morning, but her flight has been rescheduled for 3 November.
'Good spirits'
Speaking to the BBC, she said: "I'm here with my friend and our two sons. We're staying on the 26th floor on the New Yorker Hotel in midtown Manhattan, but have been told we can move to the ballroom on the second floor if it gets bad.
"All is quiet at the moment - most shops are closed. It's wet and windy, but no worse than a gusty London in winter. People are in good spirits."
Jadranka Nicholls from Chertsey, Surrey, is visiting New York for the first time with her 11-year old son Roman for a half-term break.
She told the BBC the weather was "settling down" but tourist attractions such as Central Park remain closed because of debris.
"Loads of trees have come down and demolished electricity lines. We haven't seen much but we're hoping to see Phantom of the Opera on Thursday."
She and her son are expecting to fly home to the UK on Friday.
Iain Hunter, visiting New York from Wimbledon in south-west London, was hoping to salvage some of his trip.
"It is my wife and I's first holiday visit to New York but what a week to visit. The streets are so quiet and there's a strong police presence," he said.
"We hope the main storm will pass and we can get back to normal and still manage to see some of the sights."