Newspaper review: Papers cover Sandy devastation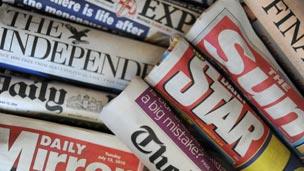 Hurricane Sandy - as it was then known - was still approaching the eastern coastline of the US as most papers went to press.
The Empire State Building identifies the Manhattan skyline in the image on the front of the Times - the rest of the picture is all water - out of which a sign rises in the foreground: "No skateboarding in Sinatra Park."
The paper describes the comments by Sir Roger Jones as a "shock confession".
The Times quotes Sir Roger as saying: "I couldn't prove that he was a paedophile, but I didn't have to. I just knew he wasn't the sort of guy I would want to go fishing with."
The Sun remarks that "it seems you'd be hard-pressed to find anyone at the BBC who didn't suspect Jimmy Savile was a paedophile".
The paper talks of "a cataclysmic failure by a string of public bodies - the BBC, the police, the NHS" and calls for a public inquiry.
The arrest of a Greek journalist who had been trying to expose wealthy people who might not be paying their taxes has alarmed the Daily Mail.
The paper says we might like to think that "nothing similar could happen here" but it believes the past few months have seen "unprecedented Establishment broadsides against the press".
Its writer says he was offered loin of cod in a restaurant - and he asks: "does a cod actually have loins, and, if so, how on earth does it gird them?"
The paper says the cafe in the flagship Debenhams' store in London is to start selling "simple coffee" - instead of an americano; "frothy coffee" - instead of cappuccino; and "chocolate flavoured coffee" - instead of caffe mocha.
The Express applauds the decision as "a stand for simplicity" that means people do not get "in a froth" when all they want is a hot drink.
Related Internet Links
The BBC is not responsible for the content of external sites.