Care home abuse is a national scandal - Norman Lamb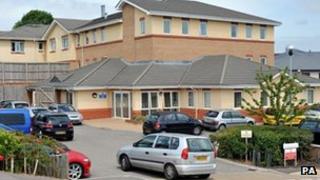 Abuse at care homes such as Winterbourne View is a "national scandal" that "has to end", health minister Norman Lamb has told MPs.
Last week six people were jailed for their role in abusing patients at the private hospital near Bristol after an investigation by BBC's Panorama.
"What has been exposed by Panorama is utterly intolerable and has to come to an end," Mr Lamb told the Commons.
He said that there were still safety concerns about six former patients.
The government's full response to the abuse at Winterbourne View will be published in November, he told MPs, in response to an urgent question tabled by shadow health minister Liz Kendall.
She said that "serious concerns" remained over whether the government took "all necessary steps" to ensure former Winterbourne View patients were now receiving effective care.
'Robust and clear'
On Monday Panorama revealed new safety alerts had been raised about 19 of the 51 patients who were abused at Winterbourne View but who now live at other care homes.
While not all of the safeguarding alerts meant that the patient had been harmed, at least one has been assaulted and one criminal inquiry is under way.
Mr Lamb said: "Years and years of public money being spent on putting people into inappropriate settings, often putting them at risk of abuse - this is a national scandal and it has to end."
He went on to say he was "absolutely determined" that the government's final response would be "robust and clear".
Mr Lamb also offered to meet the families of the 19 patients concerned to discuss their cases.
The health minister added that he wanted to see an end to local authorities sending adults with learning disabilities to live in care homes far away from their relatives and friends.
He said: "The fact is that for someone who is sent away 200 miles from home, you create the conditions where abuse is more likely than if they are in their own community.
"I want this to end."
'Forgotten about'
Mr Lamb added that he had been working since his appointment "to ensure we set the right policy to protect very vulnerable individuals".
Responding to a question from former health minister Paul Burstow, Mr Lamb said changes in the way healthcare was purchased and implemented by local authorities could result in better, cheaper care.
He said: "We were spending public money - £3,500 on average per patient in Winterbourne View - to put people at risk of abuse.
"Often an appropriate care package will cost less than that to give individual the care that they need.
"There is a serious issue about the quality of commissioning, the quality of work done by primary care trusts and in some cases local authorities."
He went on: "The sense is that too often people are placed in these settings and to all intents and purposes forgotten about. That is not acceptable."
The abuse at Winterbourne View was exposed by Panorama in spring 2011, when an undercover reporter secretly filmed support workers slapping patients, pinning them under chairs and giving them cold punishment showers.
Last week, six of the 11 care workers who admitted the neglect or abuse of patients were jailed, and five more given a suspended sentence.