Newspaper review: Press reports on Sandy aftermath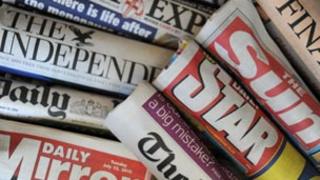 The devastating effects of super-storm Sandy is covered in the day's papers.
Paul Simmons writes in the Times that those predictions were correct, saying: "Sandy lived up to the hype."
Alongside the scores of deaths, the paper puts the bill for the damage done at $50bn (£31bn).
The story of its destructive power is told through first-hand accounts - but for all the papers it is demonstrated just as powerfully through images.
The Independent presents a montage of six photos showing burnt-out homes, the injured being treated and lines of yellow taxis submerged in water.
The words beneath seek to convey the extent of the havoc wreaked by borrowing a phrase popularised during the war with Iraq: "Shock and awe".
Windfarm debate
The Guardian notes the determination of New Yorkers to continue life as normal, observing that even in the immediate aftermath of the storm, some attempted their usual early morning jog.
Lord Heseltine's prescription for economic growth is in many papers.
The Sun uses the headline: "Hezza declares war on Slump" to describe his review, published on Wednesday.
"Going on a war footing is the correct analogy", he tells the paper. "We need to engage the war psychology."
The Daily Mirror also deploys the language of conflict in its coverage, though it suggests it's being directed by Lord Heseltine against the prime minister, who commissioned his report.
Oily fish
"Death knell for windfarms", is the Daily Telegraph's headline.
The Daily Mail strikes a similar tone with: "Minister signals end of the wind farm."
Both papers base their splashes on interviews with the Conservative energy minister, John Hayes.
He suggests sufficient numbers of on-shore wind farms have been built or are currently going through the planning process - and no more are to be "imposed" on communities.
The question of how his views will be received by his coalition partners is raised by the Telegraph. It writes that his remarks are "likely to anger" the Liberal Democrats.
Finally, the Daily Express reports on research, partly carried out at Cambridge University, which suggests that eating oily fish decreases the likelihood of suffering stroke.
However, achieving a 10% reduction in risk does require a daunting six portions a week.
However, as the paper notes, "fish oil supplements" - such as cod liver oil - "do not appear to have the same beneficial effect".