Asil Nadir compensation: Airline boss helped 'hero'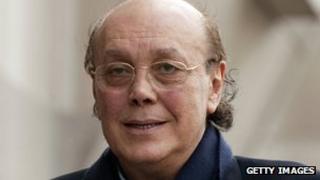 A Turkish airline boss has told a court he gave £4.3m to Asil Nadir, a former fugitive tycoon now jailed for theft, because he was a "hero".
Businessman Hamit Cankut Bagana said the money was to help Nadir live in London's Mayfair and pay his legal costs during his trial.
Nadir, 71, was jailed for 10 years in August for stealing £28.8m from his Polly Peck empire in the 1980s.
A judge is deciding whether administrators can claim compensation.
Mr Justice Holroyde, at the Old Bailey, will also assess whether an order can be made to recover prosecution costs and legal aid.
Nadir has told the court he has no assets.
The prosecution said his claim that he relied on the generosity of friends and family was a "sham" and "an affront to common sense".
Broke claim
Mr Bagana denied being given property or money by Nadir in the past.
He told the court: "He didn't give me anything but his friendship.
"Mr Nadir is a hero of my generation. In Turkey and northern Cyprus the initiatives he started are responsible for the current economic successes of today."
After being charged, Nadir fled to his native northern Cyprus in 1993 where he lived in exile for 17 years.
The Turkish-controlled territory is not recognised as a state and has no extradition treaty with the UK.
Mr Bagana said he was against Nadir's decision to return to the UK in 2010 in an attempt to clear his name but agreed to finance him as a form of moral support.
Mr Bagana is trying to retrieve £250,000 security he paid for Nadir's bail on his return to the UK.
Giving evidence via videolink from northern Cyprus, Nadir's sister Bilge Nevzat said he had not worked while he was in exile.
She said: "He was stuck in half an island that was not recognised by anyone."
Success story
At a hearing in September, Nadir said he was broke and the case was adjourned for him to try to prove the claim.
Before that hearing, Nadir was ordered to provide details of his finances and assets under a Financial Circumstances Order.
But Philip Shears QC, prosecuting, said he had "failed to provide full and frank disclosure of his financial resources" and dismissed the claim that "he has no personal assets whatever".
Philip Hackett QC, representing Nadir, said the Serious Fraud Office had been unable to find any assets in his name.
The amount of compensation being sought is about £60m, taking interest into account.
Former Stock Exchange-listed company Polly Peck International (PPI) collapsed in 1990 owing £550m and Nadir was declared bankrupt two years later.
PPI began as a small fashion company but expanded into the food, leisure and electronics industries under Nadir's ownership, growing into a business empire with more than 200 subsidiaries worldwide.
By 1990 it was on the FTSE 100 index and was one of the Stock Exchange's best performing companies but the share price collapsed after the Serious Fraud Office raided its offices.
The seven-month trial saw Nadir convicted of 10 of the sample charges he faced and acquitted of three.
The hearing was adjourned until Friday.