MoD names two British soldiers killed in Afghanistan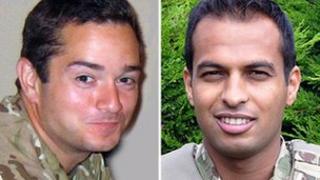 Two British soldiers shot dead in Afghanistan by a man wearing an Afghan police uniform have been named by the Ministry of Defence.
They were Lt Edward Drummond-Baxter and L/Cpl Siddhanta Kunwar, both of 1st Battalion The Royal Gurkha Rifles, attached to 40 Commando Royal Marines.
They were killed at a checkpoint while on patrol in the Nahr-e Saraj district of Helmand province on Tuesday.
Lt Drummond-Baxter, 29, lived in County Durham and L/Cpl Kunwar, 28, Nepal.
The MoD said they were shot and killed at the end of a meeting with Afghan police at Check Point Prrang in the southern part of Nahr-e Saraj.
The Taliban said the gunman was in their protection after having infiltrated the Afghan police.
Platoon commander Lt Drummond-Baxter, who was born in Peterborough, was deployed to Afghanistan for the first time on 30 September.
He was commissioned into the 1st Battalion in 2010 after spending two years working for the Foreign Office. He was a member of reserves regiment The Honourable Artillery Company while at University College London and later attended Sandhurst.
His family said: "Edward was fiercely loyal and totally sincere to his parents, sister and many friends who are mourning him today both in the UK and around the world. He loved the Gurkhas and died among friends doing the job that he wanted to do."
Lt Col David Robinson, commanding officer, described him as "a character, a true gentleman and an inspirational leader".
L/Cpl Kunwar, who was born in Pokhara, Nepal, joined the Army in 2005, and had been on two previous tours of Afghanistan. He was deployed on 3 October as a sniper section commander in the acting rank of lance corporal.
Proud family
His family said: "We are deeply shocked, disheartened and in disbelief that Siddhanta is no longer with us. But we shall treasure all the good things he did.
"He enjoyed immensely his profession and was fully committed towards it. He has made us proud. The whole family misses him dearly."
Col Robinson said: "Siddhanta Kunwar was a great character and a tough, professional Gurkha soldier with a proven and impressive operational record."
Defence Secretary Philip Hammond said he was "deeply saddened" to learn of their deaths.
"They have made the ultimate sacrifice whilst serving in Afghanistan on an operation which is vital to our national security. My thoughts are with the families, friends and colleagues of both of these brave men at this most difficult time."
The Gurkha regiment is based in Folkestone, Kent.
At least 11 of the 43 British deaths in Afghanistan this year have been in "green-on-blue" attacks, carried out by Afghans who were serving alongside British personnel.
A total of 437 British service personnel have been killed in Afghanistan since operations began 2001.