Local shops go hi-tech to offer deals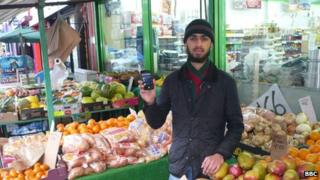 With the future of many independent stores under threat from big-name competitors amid an ailing economy, BBC Asian Network finds traditional family-run stores getting hi-tech to promote local deals to local people.
Rather than expensive window displays, the colours to catch customers' eyes are from the fruit, vegetables and spices that adorn the displays both inside and outside stores along Ladypool Road in Birmingham's Sparkbrook district.
Generations of Asian, Caribbean and Middle Eastern residents have provided a steady flow of business in the knowledge that they could not only buy foodstuffs that were unavailable in large supermarket chains but buy them cheaply.
But even long-established family stores are losing business to the big-name retailers. Manager of Raja Brothers, Mohammed Aftab, believes it is partly because the leading superstores have begun to market goods that were once only available through Asian shops.
"The big chain stores around us also sell the flour, the halal meat, the Asian spices. So what we used to be specialising in, they also have in their store now."
It is a common story. Two thirds of the UK's independent retailers have not seen any growth in the past 12 months, according to research by the British Independent Retailers Association (BIRA).
Young families are increasingly likely to drive the short distance to giant retail parks where they do a whole week's shopping under one roof and where they think the prices are cheaper. BIRA found that more than half (53%) of shoppers believed independent retailers were more expensive. But Mr Aftab rejects that.
"Customers are misguided because they do think that we are very expensive. I visit the big chain stores and I compare my prices. They do still think that the chain stores are cheaper but I know, for a fact, they are not."
However, a hi-tech solution may offer fresh hope for some struggling independent retailers.
The iPhone app called "Priority Moments", designed by O2, is normally associated with promoting High Street names and concert tickets - but it is now helping smaller retailers by providing a platform for them to tell consumers about bargains in their stores.
It uses the phone's inbuilt GPS system to find where the nearest participating independent retailers are. Mr Aftab says it has already made a difference.
"In the first week it was very good," he said. "We did have a few new customers coming in just from that app. So we did invite new customers, with advertising, but without a penny cost."
Retailers can create offers simply by accessing a website, although customers need to be on the O2 network. The service is free to both.
Younger customers
"Normally when you advertise your business there's a cost to it," Mr Aftab said. "But the app allows you to promote your business and promote your offers without any cost at all."
With almost a third (31%) of people choosing to shop at larger, competitor chain stores because they do not know of any independent alternatives in their area, it is hoped the app could raise awareness of local products and services.
When asked, some consumers were unsure whether such an app would change their shopping habits though.
In Birmingham city centre, Meena told the BBC: "More than anything, it's about time. When you're working you haven't got time to keep popping out to keep checking the apps."
But Fareena, from Birmingham, said: "You get more variety in Asda or Tesco but maybe [this app] would be easier."
And Selina, also from Birmingham, told us she would definitely use Priority Moments in future. "Everyone wants to save a penny here and there," she said.
Despite the impact of large supermarket chains, a quarter (24%) of consumers visit at least one of Britain's 148,000 local retailers every week. Many cite convenience and their importance to the community as the main reasons why they sometimes choose a nearby independent retailer.
It is felt that older customers tend to remain loyal to local shops in their own area. And where language barriers are an issue, traditional family businesses may also be able to offer a level of personal service that larger stores cannot.
The app is therefore unlikely to attract new customers from older age groups. Instead, Mr Aftab believes it could help to make stores like his more attractive to younger families who have recently opted to use major chains instead.
"The customers that we get from the phone app are mostly the younger generation. Aged between, I would say, 18 to early 30s, which is excellent because most of our customers are the older generation in this community. And we aim to engage with all different ages."