Storm Sandy: Britons with nowhere to run after marathon cancelled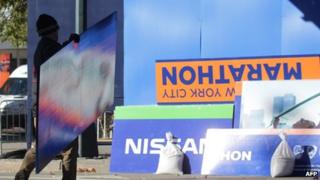 For many Britons who had expected to run the New York marathon on Sunday, it is shaping up to be a very different weekend from the one they originally planned.
They had intended to be some of the 47,000 runners pounding the streets in the largest marathon in the world.
Despite the devastation wreaked by super-storm Sandy last week, Mayor Michael Bloomberg had initially insisted the marathon would go ahead and "give people something to cheer about".
But on Friday, after plans to press ahead with the race prompted anger in cyclone-ravaged parts of the city, it was cancelled, with the mayor saying he did not want "a cloud" over the event.
That decision came after many Britons had already travelled to New York. Others discovered the news when their flight landed in the US.
The last-minute cancellation has been met with a mixed reaction from British runners, some of whom made the journey specifically for the event.
Chris Bird, the chief executive of Sports Tours International - which is one of the official travel partners for the New York marathon, and has about 1,000 Britons staying in six hotels in New York - said most people understood why the event had been cancelled.
"People are obviously disappointed not to be running. But they look at the human side of the story, and the huge impact the hurricane had on the city and people's lives," he said.
Impact on charities
Many people were planning on taking in the sights of New York, while others were hoping to see whether they could help with the clean-up, he added.
"We're talking to New York Roadrunners at the moment to see whether or not we can be of any assistance while we're out there. I've heard of customers going on websites to sign up to help."
However, some people felt frustrated the decision came so late in the day, he said.
"It took a lot of work to get the flights re-booked, as the original ones were delayed after the hurricane hit.
"Of course it might have been better if the decision had been made earlier, but then hindsight is a wonderful thing."
He said that UK-based participants could have spent anything from £600 to £2,000 on their trip to New York, and he hoped they would at least be able to get the marathon entry fee reimbursed.
"There will also be a big impact on charities. Over 50% of UK runners run for a charity, they tend to raise over £2m," he said.
'Best of luck'
Gregory Pritchard, a 28-year-old policeman from Cambridge, said he and his partner spent over £1,000 each to be in New York for the marathon, and that didn't include the cost of the hotel.
"We flew in on Thursday after the announcement that it would go ahead.
"We went and got our race number on Friday morning, and everyone was congratulating everyone on getting there, the staff were saying, 'The best of luck for Sunday,' - there was no sign of it not going ahead.
"Then when we did find out, it was by watching it on the news and through following running social media groups. There was no communication," he said.
Mr Pritchard, who is staying in the Hell's Kitchen area of Manhattan, said the only indication of any damage in that part of town was a broken crane and long queues at garages for petrol.
"We're in Central Park, there's no flooding, the cafes and restaurants are open. The race could have been run.
"At the end of the day it was a political decision.
"If it was cancelled or postponed a week ago, we could have changed our flights and got some money back, but now everyone has used their flights and paid for hotels - there is a general feeling of anger at the way it has been handled," he said.
The couple are now going to spend the weekend visiting attractions, "which are pretty much all open for business".
While the New York marathon had been on their "bucket list", Mr Pritchard said they would not be returning to the city, even if they did get a deferred place.
"Next year we might go to Chicago instead."
'Bit of a run'
One person who is going to help with the clean-up is Ali Smith, from Cumbria, who had travelled with her brother Iain to run in aid of Breakthrough Breast Cancer.
She said she wanted to help out as it would be a "nice thing to do to show support for the city", and had seen online an appeal for help to clear up Riverside Park in Manhattan.
Her plan is to run the six miles (10km) from the hotel to the waterfront park, armed with bin bags and rubber gloves to help remove fallen trees and debris.
"Because we came to run a marathon, and as we've got sponsors, it'd be a shame to have a holiday.
"We'll have a bit of fun, and also get in a bit of a run," she says.