Boris Johnson wrong on Heathrow third runway, says Cameron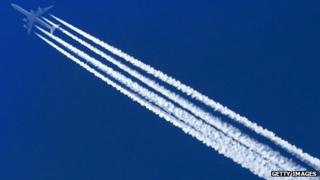 The prime minister says London Mayor Boris Johnson is wrong to dismiss a third runway at Heathrow and he will not be given a veto on the issue.
David Cameron's comments come a day after Mr Johnson criticised a commission set up to investigate airport capacity in the UK as too slow.
Mr Cameron told the Times: "In the end the decision is a national decision that the government has to lead."
It was "not right" he only wanted his preferred options considered, he added.
On Friday, Sir Howard Davies, head of the commission, said he aimed to give the next government a "flying start" on the issue after the 2015 general election.
'Complete disaster'
But Mr Johnson, who opposes expansion of Heathrow, said he felt the decision-making process was too slow and represented a "policy of utter inertia".
He said the inquiry should not even be considering another runway at Heathrow because the idea was "a complete disaster" and "simply will not happen".
The government has so far resisted pressure to build a third runway at the London airport - but many businesses have been lobbying for its expansion.
Mr Johnson, who has advocated a new airport in the Thames Estuary, warned that the Conservatives would suffer if they did not rule out the move before the next general election.
It would be "toxic and disastrous to go into the election of 2015 with Heathrow runway three still on the agenda", he said.
However, Mr Cameron said it was right that Sir Howard began his review with a "completely open mind".
"What I would say to Boris, what I have said to Boris, is that for the first time a government has properly put all the options, including estuary options, on the table," he said.
"Boris is passionate about the idea of an estuary airport. Now he has a forum in which to put forward his arguments in a way that he hasn't in the past."
'Strong case'
Former Conservative deputy prime minister Lord Heseltine has also stressed the need for urgent decisions on aviation capacity, while Sir Howard has admitted that the timetable could be construed as kicking the issue into "the long grass".
But Sir Howard, the former chairman of the Financial Services Authority, said "political reality" had to be taken into account, and there was a "strong case" for building consensus in the crucial policy area.
He has said the commission will look at the options for increasing airport capacity within the existing framework.
Sir Howard said he planned to bring out an interim report by the end of next year in which the commission would have narrowed down the options.
Along with a third Heathrow runway, options include a hub combining Heathrow and Gatwick, a new airport in the Thames Estuary and the expansion of Stansted.