Theresa May to announce Wales abuse inquiry details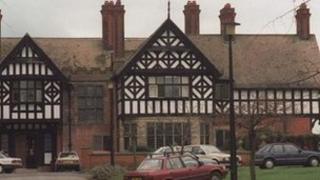 Plans for an inquiry into the way allegations of child abuse in north Wales were handled are to be outlined by Home Secretary Theresa May.
It comes after a man who claims he was abused by a senior Thatcher-era Conservative said an earlier inquiry did not fully investigate abuse claims.
Steve Messham said there was little point in "an inquiry into the inquiry" which did not examine the abuse claims.
Mrs May said it was vital to look fully at what had been done in the past.
William Hague ordered an inquiry into the abuse in 1996, when he was Welsh secretary. Over the course of three years, it heard from 650 people who had been in care from 1974.
A report was published in 2000 by Sir Ronald Waterhouse, who died in 2011. It identified 28 alleged perpetrators but they were never identified in public.
Concerns have now been raised that the remit of the inquiry was too narrow, and that it failed to consider allegations about children being taken out of the homes to be made available to abusers.
Speaking on BBC Radio 4's Today programme, Mrs May said: "There is going to be a review of the Waterhouse review, looking at the way it was conducted.
"These issues are hugely shocking and we do need to go back and have a review of that inquiry to make sure that it did do the job that it was supposed to do.
"Given the nature of these concerns, given the background, given the appalling nature of child abuse - we need to look very carefully to make sure that what was done in the past did indeed cover everything that it needed to do, and was done properly."
'Dreadful' allegations
The home secretary said she would be making a statement to the House of Commons, at about 12:30 GMT, about "how support will be able to be given to North Wales Police in terms of looking at the police investigation".
In reaction:
Mr Messham said: "I welcome the announcement as long as it's an inquiry into the abuse that took place. There's no point in having an inquiry into the inquiry"
Prime Minister David Cameron said of the allegations: "We must get to the bottom of them as quickly as possible on behalf of the victims"
Mr Cameron has already said an independent figure would investigate the way the allegations were dealt with.
A government spokesman later said ministers would hold talks with the opposition and the Welsh assembly to establish the terms of reference of the new investigation.
The issue is also expected to be discussed at first minister's questions in the Welsh Assembly.
First Minister Carwyn Jones, in a written statement to the Welsh Assembly on Tuesday, said "victims of abuse who feel that the abuse they suffered was not investigated properly should report their cases to the police. My officials have been in touch with North Wales Police to ensure they are aware of and considering these further allegations."
He said he had asked for urgent advice on what was included in the terms of reference of the Waterhouse inquiry, and for a meeting with children's commissioner for Wales Keith Towler.
There are already several inquiries into separate widespread allegations of abuse by former BBC presenter Jimmy Savile, relating to hundreds of victims over many decades.
The BBC's Norman Smith says it is likely that the government wants to make sure the police have adequate resources because they may be asked to reopen their files in relation to those allegations.
He says the prime minister is under pressure to act because allegations related to a Conservative politician mean he could be left open to accusations of a cover-up.
Our correspondent says it is possible that the government may decide that, coming at a time when there are Savile investigations under way, it might be best to have a single overarching inquiry.
Speaking ahead of his meeting with Welsh Secretary David Jones, Mr Messham told BBC News he hoped an outside police force would investigate the abuse claims.
He also said he believed the investigation into the way the Waterhouse inquiry was conducted should be headed by an expert, unlike the original inquiry. "I just hope that he does not appoint a judge," he said.
Allegations of abuse centring on the Bryn Estyn care home in north Wales, and involving almost 40 children's homes in Wales, began to emerge in the 1990s.
However, a report commissioned in March 1994 by Clwyd County Council was never published because of legal concerns.
A source close to Mr Hague - who is now foreign secretary - has told the BBC that no concerns were raised with him about the terms of the inquiry he established.
Keith Gregory, a Wrexham councillor, told the BBC he was sexually, physically and mentally abused at Bryn Estyn in the 1970s, by staff and others from the local community.
He said the abusers included MPs, solicitors, judges, factory directors, shopkeepers and serving police officers.
Counsel for the Waterhouse inquiry mentioned the existence of a "shadowy figure of high public standing", but said that there was no substantial evidence to support the allegations.
Correction 10 November 2012: The BBC has apologised unreservedly for broadcasting a report on Newsnight on 2 November over allegations of child abuse which transpired to have involved a case of mistaken identity. As a result the video of the original report has been removed from the website. More details can be found here.