Legal aid: Chris Grayling orders probe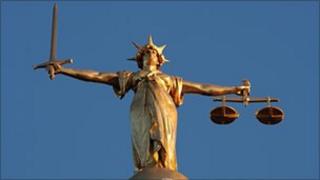 An "immediate examination" of the legal aid system has been ordered by Justice Secretary Chris Grayling.
It comes after it emerged that the legal case relating to terror suspect Abu Hamza al-Masri cost nearly £1m.
Mr Grayling said people should "never lose sight" that "legal aid is paid for by the taxpayer".
Radical cleric Abu Hamza denies terror charges in New York after being extradited from the UK after a failed appeal against the move last month.
His case involved nearly £680,000 in legal aid, according to figures released to the Daily Mail.
The details were obtained by the newspaper following a request under the Freedom of Information Act.
The sum included £445,452.65 to defend the radical preacher against charges of inciting terrorism, £165,460.81 for his fight against extradition and £68,107.33 to oppose attempts by the Home Office to remove his passport.
'Costs seem high'
Home Office lawyers cost an additional £250,000 in legal aid, which took the overall total spend to £909,423.70.
It has also emerged that the case of Jordanian terror suspect Abu Qatada has involved £390,000 in legal aid - he is fighting deportation and an immigration judge is set to rule on the case this month.
The Legal Services Commission has secured frozen assets of £217,286.57 for use towards that bill.
Discussing legal aid use, the justice secretary stressed that "resources aren't limitless" and should be reserved for cases where there is genuine need.
Mr Grayling went on: "The total costs in some cases seem very high and many - myself included - will question whether they provide value for money."
"I am concerned about public confidence in the legal aid system. I have ordered an immediate examination of aspects of the system that affect its credibility with the public".
An "immediate examination" of the legal aid system has been ordered by Justice Secretary Chris Grayling.
The Legal Action Group, a charity that works with lawyers and advisers to promote access to justice, said legal aid was an important part of the justice system.
Steve Hynes, the charity's director, said: "Everybody should have the right to access to justice. It is these values that underpin this country."
Speaking specifically about the Abu Hamza case, he added: "Everybody can condemn Abu Hamza but he was entitled to a free trial and he was entitled to exhaust his appeals.
"To get legal aid you have to pass very stringent merit tests, and that is what happened. I can't imagine that the Legal Services Commission slipped up with regards to the merits test."