Some football policing 'still heavy-handed'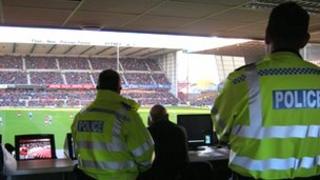 Some football fans are still experiencing policing which is too heavy-handed, the Football Supporters Federation says.
A report by the FSF seen by BBC Radio 5Live says some policing is aggressive and indiscriminate".
It says that many forces have a positive approach, but some still use heavy-handed tactics.
The FSF wants to see more regular contact before, during and after games between fans and match police.
In the 1970s and 80s football was plagued by hooliganism, with gangs such as the Chelsea Head Hunters, the Blades Business Crew and Derby Lunatic Fringe.
Organised 'firms' would travel the country in search of a fight as much as football.
In the years since, the game has done much to clean up its image - introducing banning orders on hooligans, family stands and all-seater stadiums.
But there are concerns that while the game may have moved on, some of those involved in policing it may not have come as far.
The FSF report says some fans are still experiencing policing that is "disproportionate, overly aggressive and indiscriminate".
Potential troublemakers
The chairman of the FSF, Malcolm Clarke, told BBC Radio 5Live Breakfast that there were lots of examples of good practice.
But he said: "I think there have been occasions where the first assumption is that a particular group of supporters from a particular club might be potential troublemakers who have to be contained and controlled."
The FSF wants officers deployed at games to be given training in "fan culture".
One force that has already adopted some of the tactics called for by the FSF is Nottinghamshire.
Last Saturday Nottingham Forest played host to Millwall, a club whose reputation for violence among its followers was forged in the 1980s, though the club and its supporters have worked to clean up their image.
At the morning police briefing, there was discussion of intelligence on "risk fans" (police-speak for people who may cause or get involved in trouble), as well as a potted history of Millwall and their form in the league.
"Millwall, unbeaten in the last six fixtures," says an officer. "Top scorer, Darion Henderson, he scored six goals. Head to head against Forest they are leading…"
It is like cross a between an episode of The Bill and Football Focus.
'Classed as hooligan'
An hour before kick-off and the Millwall fans who have travelled up for the fixture are in a bar enjoying a pint before the game starts.
In a slightly incongruous scene, a man with Millwall tattooed across his fingers is having a friendly chat with an officer wearing a fluorescent jacket with Football Liaison Officer written on the back.
The idea is that if both sides get to know each other better, the day will pass off more smoothly.
It is a million miles away from the containment strategies of a massive show of force, to make sure fans do not get out of hand.
For supporter Millwall Gaz, it is a welcome change from what he has experienced elsewhere.
"You are classed as hooligan," he says. "The minute you get off the train you are literally just a hooligan. You have no rights.
"You are pushed, shoved, you get into the game and they want you home as soon as possible. No in-betweens."
Not all of Nottinghamshire's tactics are so welcome, though.
At the city's main train station officers and Forest stewards are directing fans towards the ground.
The officer that catches my eye, though, is holding a camcorder and filming everyone who gets off the train.
It is one of the strategies that the Football Supporters' Federation says causes tension with fans.
Violent disorder
Its report says fans "expressed concerns in terms of potential invasion of privacy or because it leads fans to feel that they are being unnecessarily treated as hooligans".
The force's Football Intelligence Officer - who asked not to be named - acknowledges that the tactic is controversial, but he says it is justified.
"Over the past year we've arrested over 40 people for very serious public order offences - and we're talking violent disorder and affray.
"The use of evidence earlier in the day allows us to compare images like for like against those caught on CCTV in the disorder.
"Had we just targeted [known troublemakers] that footage would never have existed, and ultimately you would have missed out on the full intelligence picture."
Nottinghamshire's touchy-feely approach to policing the game comes into its own at the ground.
As well as chatting to fans in the pub ahead of the game, football liaison officers also make a point of mingling with fans during half-time.
They also join in the discussions of where the team is going right and wrong as supporters grab a drink.
That certainly helps early in the second-half with one potentially-explosive incident. After a Millwall fan headbutts one of his fellow Lions fans, the police have to move in and the tension in the ground rises noticeably.
But this is quickly spotted by one of the fan liaison officers, who gently moves her colleague aside and successfully calms the situation.
After all, it's a lot harder to yell at someone you were chatting to about the game just a few minutes earlier.