Trinity Mirror demands hacking allegation details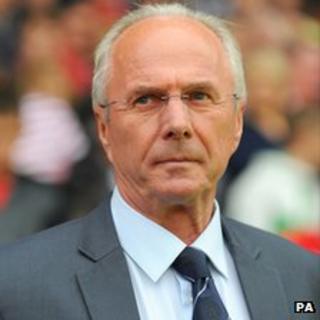 Trinity Mirror newspapers has demanded alleged phone-hacking victims reveal their case, saying it has received no formal claim from their lawyers.
Last month former England football boss Sven-Goran Eriksson and three others were said to be taking legal action.
Shares in the group, which includes the Daily and Sunday Mirror and The People, fell following the news.
The company told investors on Thursday its lawyers would demand allegations of wrongdoing were handed over.
Until October, legal action for damages in the phone-hacking affair had been focused entirely on allegations made against Rupert Murdoch's News Group Newspapers - allegations that ultimately led to the closure of the News of the World.
Solicitor Mark Lewis, who represents many hacking victims, then said four people had made allegations against newspapers in the Trinity Mirror group - Mr Eriksson, Coronation Street actress Shobna Gulati, who plays Sunita Alahan; Abbie Gibson, a former nanny for David and Victoria Beckham; and Garry Flitcroft, the former Blackburn Rovers captain.
A spokesman for the group said at the time that it was "unaware" of any legal action having been commenced at the High Court. In the wake of the news, its shares fell more than 12%.
In an interim trading statement to investors on Thursday, Trinity Mirror said: "Following the extensive publicity given to recent claims of alleged wrongdoing by Trinity Mirror journalists, the board can confirm that no such claims have yet been served, nor have any particulars of such claims been provided.
"As a result, we are today issuing notices requiring claim forms to be served."
In a claim for damages, the legal action begins when complainants serve a claim on a defendant and lodge the case with the High Court.
The party being sued must acknowledge that they have received the complaint and can also respond with a basic outline of their position.
A judge then decides with the parties the best way of handling the case and whether it needs to go to a full civil damages trial with evidence and witness statements. In practice, many cases are settled by agreement between the parties to save time and costs.
The claim reported to be planned by Sven Goran-Eriksson is said to relate to the time when Piers Morgan was editor of the Daily Mirror. Mr Morgan, who now hosts a chat show for CNN in the United States, told the Leveson inquiry that he knew nothing of illegal practices.