Newspaper review: How will new archbishop handle job?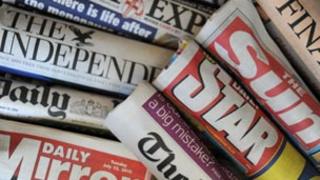 The Times is among several papers to look at the tasks facing Bishop Justin Welby, who is expected to be named as the new Archbishop of Canterbury.
It believes the Old Etonian and former oil company executive will be an excellent successor to Rowan Williams.
But it thinks maintaining Church unity will be a daunting task for him.
The Financial Times says it has learned that Bishop Welby will keep his existing place on the parliamentary inquiry into banking ethics.
The Independent says the new archbishop will have to sort out the finances of his own Church.
The paper reveals that the pension fund for retired clergy has a deficit of £500 million.
There are allegations in the Daily Telegraph that Britain's biggest bank, HSBC, is facing an investigation into money laundering.
The paper says it has evidence that offshore accounts in Jersey were used by serious criminals.
The Mirror praises David Cameron for his calm handling of an interview on ITV's This Morning programme.
The paper is critical of the way the prime minister was handed a list of names of supposed paedophile suspects.
The Express believes Mr Cameron "struck just the right note" when he urged anyone will child abuse allegations to contact the police.
The Sun describes the anguish of the woman whose van hit cyclist Bradley Wiggins in Lancashire.
A friend is quoted saying it is bad enough to knock anyone off a bike, but she had just floored the most famous cyclist on the planet.
The Daily Mail says the government will signal that Britain is to cut foreign aid to well-off nations.
It reports that India's aid programme will end in three years and the money will go instead to poorer countries.
The Financial Times highlights research suggesting the number of City jobs could fall to a 20 year low.
It says senior MPs and Peers are to examine whether tough financial regulations are driving bankers away from London.
The Telegraph reports that church bells which have rung out for centuries at Baldock in Hertfordshire will not be heard early this Christmas morning.
It reveals that local residents said they needed to sleep, and one complained to the district council.
One bell will ring for 45 seconds instead of the traditional 20 minute peal.