Next archbishop Justin Welby 'humble but firm'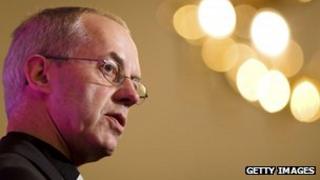 The Rt Rev Justin Welby's appearance before the nation's media began with what you might expect from the next leader of the Church of England - a prayer - and was then followed by something you might not expect - a joke.
"Well this is the best kept secret since the last cabinet reshuffle" he told the assembled journalists in one of the grand meeting rooms of his future London home, Lambeth Palace.
His elevation to the Church of England's most senior post has been well known for some days, ever since it emerged that two bookmakers had suspended betting on the contenders because of a rush of money on Bishop Welby.
That knowledge clearly hadn't gone to his head.
There was a sense of real humility when he said his appointment as the 105th Archbishop of Canterbury was unexpected, and that his initial reaction on being told by a Downing Street official was "oh no".
'Steel in voice'
Yet there was also something even more apparent - the hint of steel in his voice as he went on to outline in pretty firm detail where he stood on some of the major challenges facing the Church, and how he hoped to tackle them.
As we know, he very much supports women bishops and strongly urged the upcoming Synod meeting to vote in their favour. But he also made clear that a way had to be found to keep those people who were unhappy with female "headship" within the Church.
It was on the issue of gay marriage though that Bishop Welby was perhaps the most forthright - and clear.
He supports the Church's opposition to the introduction of gay civil marriage, but in an organisation well known for clerics who often use ecclesiastical language which seems to fudge what they really mean, he also clearly produced an olive branch.
Referring to civil partnerships, he acknowledged that the state had a right to define the status of people in co-habiting relationships. That hasn't always been the position of bishops in the national Church - some who sit in the Lords spoke against that original piece of legislation.
He also made clear that any homophobia in the pews adversely influences Anglican Churches in Africa (where clerics have often been accused of using rhetoric that endangers gay people).
And most interestingly, in saying he didn't want to engage in the "language of exclusion", he called for the creation of safe spaces where issues of sexuality could be discussed honestly.
That sounds like Bishop Welby is opening the door to what could be future talks with advocates of gay marriage, both from within the Church and wider society.
Church attendance
One of his biggest challenges will be to reverse the decline in Church attendance, something he believes is possible.
He used the subject to pay tribute to one of the contenders for the archbishop's role, Bishop Richard Chartres, who has overseen a growth in numbers in his diocese of London.
And he was also unstinting in his praise of the Most Rev Rowan Williams, who stands down as archbishop at the end of this year, though he also took an opportunity to outline some fundamental differences, jokingly referring to a "better barber - and razors".
He had a rapt audience for this first public appearance at Lambeth Palace, but future press conferences might not be quite so easy.
However, Bishop Welby had the air of a man who, perhaps from a life spent as a senior oil company executive, is used to confidently managing people.
That was very apparent when I asked him if he could outline the work he's done in conflict resolution in Nigeria, and tell us how that experience would help him in his new role?
Bishop Welby outlined exactly what that work in Africa had entailed - and then without a hint of embarrassment, ignored the second half of my question and moved seamlessly on to the next journalist.