Phone hacking: Police contact 2,500 'potential victims'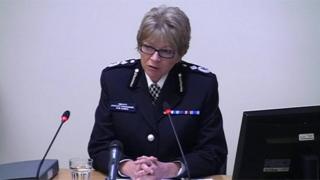 Police investigating phone hacking have contacted some 2,500 potential victims, according to the former Metropolitan Police deputy assistant commissioner.
Sue Akers, formerly responsible for the three operations arising from the phone hacking probe, also said the term "victim" was "difficult to define".
She added that it had proved to be "impossible" to provide a definitive number of people possibly affected.
Ms Akers, who has retired, has handed her role on to DAC Stephen Kavanagh.
Her comments come as part of her update to the Leveson Inquiry.
The three police operations currently ongoing are Operation Tuleta, the Met's investigation into privacy breaches, including the alleged hacking of computer and mobile phones; Operation Weeting, the Met's investigation into phone hacking; and Operation Elveden, looking at corrupt payments to public officials.
In a statement released on the Leveson Inquiry website, Ms Akers said: "Even the term 'victim' remains difficult to define. Numbers have to be continually revised, because on further investigation new victims are identified and others eliminated.
"To date Operation Weeting has arrested a total of 25 individuals, 15 of whom are current or former journalists and 10 are non-journalists. Seventeen individuals have been arrested for conspiring to intercept communications and, or, the actual interception of communications."
Of those 17 arrests, she said seven ex-News of the World employees have been charged with an overarching offence of conspiracy to intercept communications between 3 October 2000 and 9 August 2006.
Of the 52 Operation Elveden arrests, 27 were current or former journalists, six police officers, and 12 current or former public officials.
Ms Akers also said a "vast quantity of data" was being searched in relation to Operation Tuleta.
"It is anticipated, barring any unforeseen change in circumstances, that the examination of this material will be completed by the end of January 2013 and those making allegations," she said.