PCC elections: Watchdog to probe record low turnout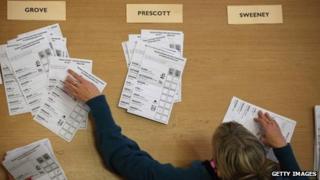 A review is to be carried out into how the police and crime commissioners (PCC) elections were conducted.
The Electoral Commission's chairwoman Jenny Watson said: "We will talk to voters, candidates and returning officers to understand what worked and what didn't."
Fewer than 15% of voters turned out in the 41 English and Welsh police areas electing a PCC, a peacetime low.
Ministers blamed a lack of familiarity and understanding of the PCC's role.
She said the elections had taken place "at an unfamiliar time of year, which is why we have made clear at every stage that it would be important to engage effectively with voters".
"The government took a number of decisions about how to run these elections that we did not agree with," added Ms Watson.
The review board is likely to present its findings to Parliament early in the new year.
The Conservatives won 16 posts and Labour 13. Twelve went to independents, including some ex-police officers.
'Properly selected'
The commissioners will be in post until 2016 and will have the power to set policing priorities, budgets and also to hire and fire chief constables.
Sir Hugh Orde, head of the Association of Chief Police Officers, told BBC Radio 4's Today programme: "The individuals have been properly selected in a democratic process and the issue of numbers is absolutely not one for chief constables."
He said some PCCs had "police experience and others will bring other things to the party".
Prime Minister David Cameron denied the low number of voters meant the role lacked a popular mandate and predicted the public would become more interested when PCCs began their work.
But former Labour Home Secretary Charles Clarke said Mr Cameron was "quite wrong" and those elected had "no mandate to lead policing in their communities".
He told BBC News the low turnout together with "large numbers of people spoiling their papers and many people saying they have no knowledge at all or information about the elections as a result of the way the government organised it means there isn't a mandate".
The government has been criticised for not providing funding for a mailshot as well as for holding the poll in the winter.
Ann Barnes, the new PCC for Kent - where there was a turnout of 16% - said the election had been run "disgracefully", with "anger" among the electorate because they did not know who was standing.
But despite the low turnout she maintained she "got quite a big mandate in Kent because we won very comprehensively here in the county".
"I don't feel limited at all because most of the people who voted for me actually decided they wanted me as their commissioner and they gave me the mandate to be their commissioner," she told BBC Radio 4's Today programme.
She said her position as an independent candidate had been "absolutely critical" to her success because of the electorate's distrust for politicians".
Constables should concentrate on bringing the PCCs "up to speed on the sheer complexity of the world in which we operate very quickly", he added.
Liberal Democrat president Tim Farron warned that commissioners would struggle to claim a mandate, as the low turn out meant some were elected by a small percentage of the total electorate.
But Universities Minister David Willetts said on Radio 4's Any Questions that turnout would improve over time, citing the inaugural London mayoral contest in 2000.
"The first election to the Mayor of London had a low turnout then it gradually grew as people realised the significance of the post," he said.
In other election developments:
Devon and Cornwall was the final PCC area to declare in the early hours of Saturday morning. The seat was won by the Conservative candidate Tony Hogg with 35.24% of the final vote
Labour's Andy Sawford is to replace Tory Louise Mensch as the MP for Corby in Northamptonshire. Mr Sawford became the first Labour candidate in 15 years to take a Conservative seat in a by-election. Mrs Mensch told the BBC she "was to blame" for her party's loss.
Labour candidates were also triumphant in the two other by-elections on Thursday, holding the seats for the party. Lucy Powell won the Manchester Central seat and Stephen Doughty won in Cardiff South and Penarth