'Bedroom tax' dilemma for social housing tenants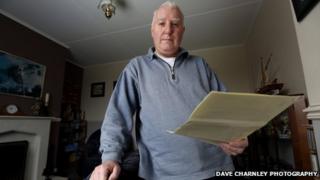 People living in social housing who have a spare bedroom will find any housing benefit claim reduced by about £40 to £80 a month next April under welfare reforms. But research seen by the BBC suggests almost 95,000 people in England could be forced into arrears because there are no smaller homes for them to move into.
Tenants in the north of England will be the hit the hardest by the introduction of the so-called bedroom tax, housing officers say.
The government says the "under-occupancy" penalty, to give it its official title, will protect taxpayers from having to pay for a two or three-bedroom house for a single person.
But housing officers are preparing their tenants for penalties that many of them do not even know about.
Jayne MacDonald from Endeavour Housing in Stockton said: "Some of our residents can't read or write so although there is a lot of literature about it doesn't make any difference."
Her team is going into people's houses to show them how to budget for the reforms, which come into effect in April.
The change will mean that anyone in social housing - which includes both housing association and council housing - with a spare bedroom will lose 14% of their housing benefit, or 25% if they have two spare rooms.
"Most tenants around here literally won't have a spare penny and there is nowhere for that money to come from. So they are going to have to make that difficult decision to move or get into debt," she added.
But in areas like this moving isn't really an option because there just aren't enough smaller places to move into.
Endeavour Housing Association has 153 families under-occupying two-bedroom homes but it does not have any one-bedroom properties for them to move into.
In Chester le Street, 25 miles away, there are only 41 one-bedroom properties and 600 people under-occupying.
One of those is Kenneth Unwin, who has lived in his terrace house for 14 years.
"This is a two-bedroom house but it's very small.
"It's the smallest one I could find in fact. My spare room is a box room and you can just about get a bed in but not much else so I use that room to store my tools because I'm a labourer and need that space.
"I'm really worried because at the moment I can keep my head above water, just. But if I have to pay £45 a month them I don't know what will happen.
"I would move but where can I move to? They say there are no one-bedroom properties here so we're all in the same boat."
The National Housing Federation, which represents 1,200 housing associations in England, conducted research based on official housing stock data which suggested that 95,000 people could find themselves owing money as a result of the change.
It says the new policy will not work in many parts of the country - mainly in the north of England and rural areas because of there are huge variations in housing stock.
Monica Burns, the organisation's north east manager, said: "We estimate 44% of our tenants in this area are under-occupying with nowhere smaller to move to.
"On top of that we have high unemployment and low wages so it doesn't add up."
"The Department of Work and Pensions say people should move to private rented sector. You could move from a two-bedroom socially rented property to a smaller privately rented property and it will most likely cost more... so it will the cost the taxpayer more."
She said the policy would also tear apart communities forced to move away from family or give up a spare room that was used when children came back from university or for grandchildren to stay in.
But with a bill for housing benefit topping £21bn a year and rising the government says it has to cut costs somewhere.
Welfare minister Lord Freud told the BBC the policy was the fairest way to make those cuts.
He said: "People in the private sector who are not on benefits have got to match what they can afford with where they live all the time.
"So we're not looking for them to do anything different to people who live in social housing.
"Some people are able to work more and there are quite a lot of job vacancies coming up all the time, including in the north east.
"Some people can take in a lodger, some can move or do a house swap. There is a lot of overcrowding and some of them will move to the private sector. There is no one size fits all here."
Maureen Hagan, 55, and the granddaughter she fosters moved to the nearest two-bedroom house which was almost 10 miles away from the rest of the family.
She said: "I was terrified of falling into arrears. I saw my housing officer she said I would have to pay roughly £11 to £18 a week.
"I couldn't afford it. I couldn't even afford a fiver a week. I had to get myself into debt to get a cooker and a mattress.
"I know we had to do something to reduce costs. But I just have to ask did it have to be so drastic for everyone here?"