Judges ruling on whole-life cases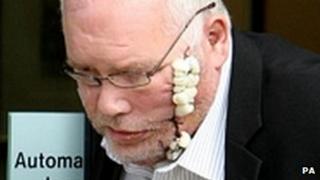 Five leading judges are to rule on appeals by four convicted criminals against their whole-life tariffs.
The men, some of the most dangerous in prison, were told when they were convicted that they could never be released from jail.
The two murderers and two rapists will argue at the Court of Appeal that they should have received minimum terms.
The decision comes ahead of a major related case at the European Court of Human Rights.
Each of the cases before the court involves challenging rules that allow judges to declare that a criminal must be kept in jail for the rest of their life, with no possibility of overturning that decision.
The power to imprison someone forever is reserved for offenders judged to be the most dangerous to society and currently applies to 46 people in jail.
Danilo Restivo was given a whole life tariff in June 2011 for the murder and mutilation of a mother-of-two in Bournemouth, while David Oakes, 51, shot his former partner before shooting their two-year-old daughter in Braintree, Essex.
The other two whole-life tariff appellants are rapists. Michael Roberts, 46, attacked elderly women in south-east London while David Martin Simmons was jailed for life in 2004.
A fifth appellant in Wednesday's case is Kiaran Stapleton, who was found guilty of murdering Indian student Anuj Bidve in Salford, Greater Manchester, in 2011. He did not receive a whole-life tariff, but is challenging his minimum term of 30 years.
David Perry QC, for the Crown, told the appeal that it was seeking to "support the whole-life orders made in the cases of Oakes and Restivo", and the minimum term imposed in Stapleton's case.
He accepted that the making of a whole-life order for Roberts had been wrong in legal principle, but he stressed that the concession did not "minimise the seriousness of the offences".
He added: "Our submissions are intended to reflect the fact that a whole-life order is reserved for rare cases of exceptional gravity, where a whole-life order is made for the purpose of pure punishment, and not for public protection."
In a highly unusual move, the appeals were heard by five of the country's leading judges, led by the Lord Chief Justice.
The Court of Appeal's decision to bring together whole-life tariff cases, and have a ruling by five of the most senior judges, is part of an effort to clarify and underline the view of the British courts before the European Court of Human Rights deals with similar appeals next week.
Three men serving whole-life tariffs for murder will have their cases heard by the Grand Chamber, the highest level of the Strasbourg court.
The men include Jeremy Bamber, convicted of shooting his adoptive parents, sister and her two children in 1985 in Essex.