Postal workers 'need new law to stop dog attacks'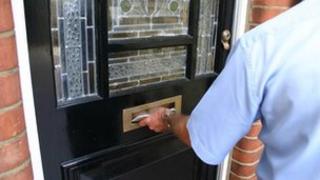 The law in England and Wales offers "inadequate" protection to postal workers who are attacked by dogs, a report says.
The report, commissioned by Royal Mail, recommends a change in law to help deal with the owners of dogs who attack.
The report points out that currently action cannot be taken if an attack takes place on private property.
The number of attacks ranges from Royal Mail's figure of 3,000 a year to the 5,000 suggested by the workers' union.
The Communication Workers Union welcomed the report, saying it backed moves to get serious on punishment.
Paul Coleman, a former postman who was attacked in Sheffield by two Staffordshire bull terriers, told BBC Radio 4's Today programme: "It has left me with really bad scarring and 27% disabled for life."
Iron bar
He said: "It was outside someone's house. They came with a garden rake and hit the dogs with that. They gave me a hammer and I hit the dogs in the head until the shaft of the hammer snapped...a man came from an engineering firm with a solid steel six-foot iron bar, hit it three times on the back and the dogs never let go."
Mr Coleman said he was off work for six months and has seen a clinical psychologist on and off ever since the attack in 2007.
In his report, former High Court judge Sir Gordon Langley says current laws limited the legal protection available to postmen and women.
He calls on the government to change the law so that action can be taken against dog owners wherever an attack takes place.
Sir Gordon said: "It is a matter of real concern to learn of the extent and frequency of attacks on postal workers and to find that for a considerable time there has been almost general agreement, not only on the inadequacies of the present law in England and Wales, but also on the nature of the reforms required to address it, but to date it remains unchanged."
Royal Mail said it would act immediately to change its policy towards owners of dogs who attack, to make it more "robust". It will look at suspending deliveries to addresses where attacks take place.
Royal Mail chairman Donald Brydon said: "Dog attacks cause injuries and terrible trauma to our staff. Nobody should have to endure this and our staff are at an increased risk of such attacks simply because of the job they do."
New laws have already been introduced in Scotland and Northern Ireland, with legislation planned in Wales.
The Communication Workers Union, which has criticised the government on the issue in the past, said the report should be a step towards taking action.
CWU general secretary Billy Hayes said: "Sir Gordon's recommendations take on board our own long-standing campaign objectives of securing new UK-wide laws which apply on private property, moving away from breed-specific legislation, introducing micro-chipping and getting serious when it comes to prosecution and punishment.
"England will soon be the only part of the UK without updated dogs laws."