Jimmy Savile scandal: Mark Thompson at BBC Pollard probe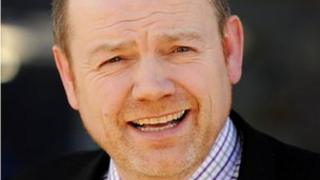 Former BBC director general Mark Thompson has given evidence at an inquiry into Newsnight's shelving of an investigation into Jimmy Savile.
The chief executive and president of the New York Times travelled to London to give evidence, a spokesman said.
The independent Pollard Review is seeking to establish whether there were any "failings" in the decision to drop the Newsnight investigation.
On Friday it was announced it would take a month longer than expected.
Former Sky News executive Nick Pollard, who is chairing the review, said the need to conduct further interviews, examine documents and prepare the report will meant it was not expected to be delivered until mid-December.
The review was making "good progress", Mr Pollard said.
Appointment questioned
Mr Thompson, who led the BBC from 2004-12, was still in charge at the BBC when the Newsnight programme was dropped.
The New York Times's senior vice-president of corporate communications Robert Christie said he could not discuss the contents of Mr Thompson's evidence, only saying that he was expected to return to New York by Monday.
Mr Thompson started his new job earlier this month. His appointment was questioned by some staff at the newspaper, who said they wanted to know more about his part in the crisis at the BBC.
Speaking to the press as he arrived for his first day, he said he was saddened by events, but confident the BBC would bounce back.
The Pollard Review, which will also look at the BBC's handling of material which might have been of interest to the police, will report to the BBC Executive Board.
There has been speculation that the programme was dropped because the BBC was already planning to run programmes in tribute to the former BBC presenter, who died in October 2011. The BBC has repeatedly denied such claims.