Student visas: UKBA 'failed to check' tip-offs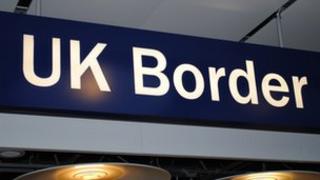 Thousands of overseas students may have been allowed to stay in Britain illegally because UK Border Agency (UKBA) staff failed to check out tip-offs about them, a report has revealed.
When non-EU students do not enrol, stop attending courses or breach visa rules, colleges report them to the UKBA.
Chief inspector of immigration John Vine said a backlog of 153,000 such reports had built up at one point.
Ministers say they have "toughened the rules" on student visas.
Mr Vine, whose team examined work at three UKBA offices in Sheffield, Delhi and Beijing, said the agency had "no targets in place for responding to notifications made using the sponsor management system".
"As a result, notifications of changes to circumstances of students, details of students failing to enrol or attend classes, or curtailment of sponsorship were not being acted upon," he said.
"Over 150,000 notifications had accumulated and were awaiting action, meaning that potentially thousands of students had retained leave to remain when they should not have done so."
This was "a significant failure," he added.
He said that, by May of this year, all the outstanding tip-offs had been investigated and said the UKBS had "launched an operation to identify and remove people, including students, who had overstayed beyond the term of their visa".
He said such work should be "an ongoing priority rather than the subject of a one-off operation by the agency".
Inspectors also warned that increasing numbers were entering Britain on visas designed for short periods of study which were not subject to the same checks as those for longer courses.
'Ripe for exploitation'
Shadow immigration minister Chris Bryant said the "massive 153,000 backlog of people who have potentially gone rogue emphasises that, with Theresa May running the Home Office, we are getting the worst of both worlds".
"Student visitor visas have fewer checks than full student visas and are therefore ripe for exploitation by those looking to avoid tougher checks," he added.
But Immigration Minister Mark Harper said the government had "toughened the rules to ensure that genuine students are not taken advantage of by organisations looking to sell immigration not education".
"At the same time we have a great offer for the brightest and best international talent who want to study at our world class institutions," he added.
He said he was pleased the report "recognises the operational improvements that have been made at the agency".
Mistakes 'inadvertent'
Earlier this month, Mr Vine accused the border agency in a report of misleading MPs about the amount of background checks made on historic asylum cases.
He said the UKBA had supplied inaccurate information to MPs about a backlog of cases and said Parliament had received incorrect assurances about progress.
At the time, a Home Office spokesman said it was turning around the "troubled" agency.
On Tuesday, senior UKBA official Jonathan Sedgwick apologised to the Home Affairs Committee for misleading MPs but insisted the mistakes had been "inadvertent".
A group representing language schools in the UK says it is a mistake to assume that 150,000 overseas students had stayed in the UK when they were not entitled to, or are even in the country.
English UK says the system is at fault - and falsely brands some students as "overstayers".
The body's chief executive Tony Millns said: "Sponsors don't want bogus or overstaying students, so they are scrupulously reporting everything that the law requires.
"The trouble is that often the system itself is at fault - for instance, if a student has a formal offer at two colleges, they will be reported as failing to enrol at the one they turn down. This report would brand that student as potentially overstaying, whereas they are studying perfectly legally at a different institution.
"It's clear that the Border Agency hasn't been pursuing most of these supposed 150,000 overstayers, because they know perfectly well that they don't exist."