Leveson report: Media reaction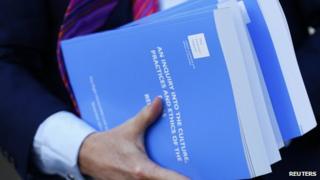 Newspaper editors are due to meet to discuss Lord Justice Leveson's report into the culture, practices and ethics of the press.
It follows a meeting on Monday when the prime minister told the industry to act quickly if it did not want regulation by law.
Lord Justice Leveson said a new regulatory body should be independent but "underpinned" by law, to prevent more people from being hurt by "press behaviour that, at times, can only be described as outrageous".
He rejected a proposal from the press itself to police papers who signed up to a new regulator through legally-enforceable membership contracts.
We look at what the papers themselves have said on the question.
Editor-in-chief Lloyd Embley has tweeted: "There is a firm belief that papers can deliver Leveson principles far more quickly without legislation - better for public and free speech."
"We need the right solution and fast .. but also need bit of time needed to check it is fit for purpose.
"Legislation can be changed - that's why statute is threat to free speech. Surprised some left of centre politicians are pushing for it."
The paper commented on the Leveson report that it had exposed "20 years of dirty washing" of the press "including the shocking treatment of the Dowlers, McCanns and others - but it is important to restate that laws already exist to deal with such cases."
"Nobody in their right mind would defend the status quo... Yet we firmly believe that a free press is a principle worth fighting for."
Editor Chris Blackhurst has said there is "movement" across the industry towards an agreement on making the new body fully independent of serving editors. Previously, he had said the independence of the new regulatory body was a "sticking point".
He said there was unanimity that the regulator would need the teeth proposed by Leveson, he said, such as the power to levy £1m fines, to launch investigations and direct the size and prominence of apologies.
The industry recognised the need to return the "favour" done by Mr Cameron in resisting statutory regulation, he told Sky News.
After the report was published, the Independent praised Lord Justice Leveson for "rejecting statutory regulation as such".
But it said: His central proposal, that the establishment and working of a new and fully independent regulatory body should be underpinned by legislation, we believe to be not only unnecessary, but undesirable."
The paper's editor, Tony Gallagher, has said Monday's meeting "felt like the summoning of the Five Families in The Godfather."
Of the Leveson report: the Telegraph said :"It would be wrong to use bad behaviour by the minority as an excuse to introduce the first press statute since censorship laws were abolished in 1695.
"Whatever the judge hopes, this would be a slippery slope to state meddling."
Wednesday's meeting of the Press Complaints Commission's Code of Conduct Committee will be chaired by Mail editor Paul Dacre, who was not at Monday's meeting with the prime minister because of personal commitments.
His paper has said it has "the gravest reservations" about Lord Justice Leveson's recommendations.
"Repeatedly, he has said he is not proposing statutory regulation, but merely a body 'underpinned' by statute. This is just playing with words," the Mail said
Lord Justice Leveson "has sought to be fair and objective. But we are deeply alarmed by his main proposal for new legislation that could bring in state control of newspapers," the Sun has said.
"How 'independent' would a regulatory body be if it had to answer to MPs? Such a law could allow state officials to walk into papers like the Sun and censor stories," it asked.
"There are many good things about Leveson's ideas," the Guardian commented after the report's publication.
"Newspapers - which have complained for years about the iniquities and cost of the law - ought to welcome a more flexible, quicker and cheaper alternative.
"As we have argued consistently, this is a real prize worth having, even if it needs statute to achieve it and to make it stick.
"The processes of appointment and governance he outlines are fairer, more open and more transparent than the old PCC club. Publishers - including digital players - would have compelling reasons to want to be inside the tent. Anyone outside the tent could be regulated by Ofcom.
"But a 2,000-page report is bound to provoke questions. Is Ofcom really the right body to be involved in all, or any, of these roles? Can any system be both voluntary and still have compulsion?"
The Express says David Cameron has admitted "to pass a press law making newspapers ultimately accountable to Parliament for what they print would be to cross a Rubicon.
"His challenge to the newspaper industry to devise its own regulatory system that complies fully with the tough principles set out by Lord Leveson, delivers fair play and yet does not require legislation is therefore one we are happy to take up. The task is an urgent one.
"No properly run newspaper should fear or resist genuinely independent checks and balances," the paper said, following the report's publication last month.
The paper said Mr Cameron's resistance to statutory regulation "showed courage and principle".
The Leveson proposal for legislation to back up press regulation was "politically hard to resist" and Lord Justice Leveson has called it "essential", it noted.
But, said the Times, "The independent regulation that the report advances does not require statutory underpinning. Statute can be spurned while the scheme is embraced."
The FT said it was "worried about Lord Justice Leveson's proposals for a 'backstop regulator' that would step in if news organisations did not join the new body.
"It is a press law by the back door and one that pays scant attention to the revolutionary changes in the media landscape. This is increasingly dominated by digital innovators and social media," it claimed.
What other commentators said
Mary Riddell in the Daily Telegraph
"Like many long-awaited events, the Leveson report offers few surprises. Lord Justice Leveson, sepulchral in tone, has delivered conclusions that could, or so many fear, become the death knell of a free press. That is not what he wishes.
"His criticism of the egregious actions of some newspapers is inarguable, and his stated commitment to press freedom sounds entirely genuine. The fact remains that reviving the state licensing of newspapers, abandoned three centuries ago, would be a perilous step."
Ian Burrell in the Independent
"The press is going to be very upset - and Lord Justice Leveson knows it.
"The demand by Leveson for statutory underpinning of a regulator which he portrays as being "genuinely independent" will simply be seen as an unacceptable compromise of the autonomy of an industry that has been free since 1695. For most papers this is a simple matter of principle - Parliament has no role in the press."
"The judge is saying that a new form of regulation with statutory underpinning cannot fairly be called statutory regulation. MPs will certainly be keen to learn what the government's understanding of this proposed system is.
"Strangely, when he finished giving his statement, the judge received applause from the room. Whether he will be applauded by the press once the report has been digested, or whether MPs in the House of Commons will applaud the new proposals for the press, will become clear very shortly."
Damian Collins, Conservative MP, in the Huffington Post
"The PCC [Press Complaints Commission] has not been a regulator, rather just the handler of complaints. It has no powers to investigate, discipline or fine members for breaches of its code. It is not even required that all of the national newspapers are signed up to it.
"These things have to change, and that change can be made without the requirement of statutory regulation of the media. It is now up to the media owners to show they are willing to take up the challenge of creating this new self-regulatory model."
Lord Ashcroft, Conservativehome blog
"As a businessman with media interests (including a controlling one in this website), I have been awaiting the publication of the report with a growing sense of anticipation. Equally, as someone who was a victim of the excesses of the press... I have been eager to learn how Lord Justice Leveson's recommendations would give wronged members of the public greater powers to fight back.
"Time will tell whether all, or some, of Lord Justice Leveson's recommendations are adopted by the government but, whatever happens, this inquiry and its report will mark a watershed for the press. Newspapers will have to be more accountable than ever before to the public, in general, and their readers, in particular."