Leveson criticises police but says they are not corrupt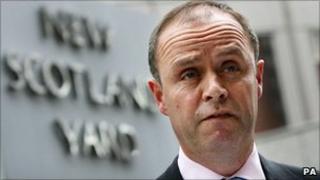 The Leveson report has criticised the Metropolitan Police for its handling of the phone-hacking investigation.
Lord Justice Leveson said the force had made mistakes, but he found no evidence that they had acted corruptly.
The judge specifically criticised one former senior officer, John Yates, over how he had decided not to reopen the phone-hacking investigation in 2009.
In a statement, the Metropolitan Police said it accepted failings relating to how it had not informed other victims.
A large part of the Leveson inquiry was taken up with examining the relationship between newspapers and the police - in particular the ties between the News of the World and Scotland Yard.
Hacking investigation
Scotland Yard's first investigation into hacking led to the conviction and jailing of a News of the World journalist and a private investigator in 2007.
Two years later, it faced pressure to reopen the investigation amid mounting evidence there had been more victims of the practice.
John Yates, then an assistant commissioner, swiftly decided not to relaunch the investigation. He quit two years later, amid questions over his personal friendship with Neil Wallis, a former deputy editor of the News of the World.
Lord Justice Leveson said: "I am satisfied that I have seen no basis for challenging at any stage the integrity of the police, or that of the senior police officers concerned. What is, however, equally clear is that a series of poor decisions, poorly executed, all came together to contribute to the perception that [the police were too close to News International].
The judge said that police chiefs had been right to restrict the original hacking investigation because specialist officers had been dealing with unprecedented terrorism threats against the UK. But he said the mistakes had come later, when Scotland Yard had faced pressure to reinvestigate, after the Guardian newspaper had uncovered evidence of more widespread hacking.
"Although he was a very experienced police officer, I regret that Assistant Commissioner Yates did not reflect on whether he should be involved in an investigation into the newspaper at which he had friends, including one who was the deputy editor.
"He would have been better advised to arrange for a different officer to conduct it. That is even more so when he decided, within hours and before the case papers had been recovered and could be properly reviewed, that there were no grounds for reviewing the decision: errors of recollection were inevitable and they were made. Furthermore, publicly to announce that conclusion, on camera, on the same day meant that there was no turning back. A defensive mindset was then established which affected all that followed."
No corruption found
The inquiry heard evidence of News International's close relationship with the police in an effort to get good crime stories ahead of competitors. But the judge said there was no evidence to suggest any officers had been influenced by their relationship with the press.
"Speculation, suspicion and legitimate perceptions may abound and troubling evidence has been identified in a limited number of cases (with journalists tenaciously protecting their sources), but the notion, as a matter of established fact, that this may be a widespread problem is not borne out. The scale of the problem needs to be kept in proportion.
"No-one could reasonably conclude that inappropriately lavish entertainment is or has been rife in the Metropolitan Police Service, or that the officers involved in what may be described as the most damaging evidence were corrupt. The issue is about perception, more than integrity."
Lord Justice Leveson said that police chiefs and senior colleagues should record all of their contacts with the media. The term "off-the-record briefing" should be discontinued, he added, and replaced with the term "non-reportable briefing".
He also said guidance from the Association of Chief Police Officers should "more specifically" spell out the dangers of alcohol during "casual hospitality".
In a statement, Scotland Yard said: "We accept that there were failings about implementing a workable victim strategy.
"Likewise, the decision not to subsequently reopen the investigation was taken too quickly and with a defensive mindset. Although there were incidents that left a perception of cosiness between particular senior officers and some journalists, Lord Justice Leveson found that that did not influence or taint decision-making."
Met Commissioner Bernard Hogan-Howe said he had already taken "decisive action" over the failings and the force's priority now was to get justice for phone-hacking victims.