Scrap metal cash payments banned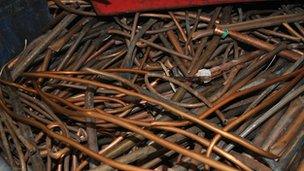 Cash payments for metal at recycling yards in England and Wales are no longer legal under new laws aimed at reducing cable theft.
Thefts have plagued the railway industry for the past few years, disrupting services across the country.
Penalties for those breaking the law have also been increased in amendments to the Legal Aid, Sentencing and Punishment of Offenders Bill.
Workers in the metal recycling industry say legislation alone is not enough.
The metal recycling industry is worth about £5.6bn annually and employs almost 8,000 people in the UK.
Home Secretary Theresa May announced the changes in January, saying cash payments had led to "anonymous, low-risk transactions" for thieves and meant "poor record keeping" within the industry.
The Scottish government has proposed the introduction of similar measures.
The Association of Chief Police Officers estimates that metal theft costs the UK economy £770m every year.
Incidents of railway cable theft have dropped from more than 2,600 in 2011 to under 1,300 so far this year amid a police campaign to tackle the problem.
The Association of Train Operating Companies (Atoc) said: "People in communities across the country are suffering because of cable theft, whether through disruption to train journeys, disabled phone lines or desecrated war memorials."
It said the new measures would be "a real asset in the ongoing fight against metal theft" and welcomed the changes.
British Transport Police deputy chief constable Paul Crowther said metal theft remained a serious threat to infrastructure in England and Wales.
"For several years, metal thieves and unscrupulous metal recyclers have exploited outdated legislation to make profit from criminal activity. This stops now," he said.
"These measures will seriously curtail the market for stolen metal as there will now be a clear audit trail back to those bringing commodities into recycling yards and severe sanctions for those who step out of line."
It comes ahead of a bill, tabled by Richard Ottaway MP, which would see licensing for scrap metal dealers.
The British Metals Recycling Association has been supporting the Scrap Metal Dealers Bill, saying a cash ban alone will not reduce metal theft.
Its director, Ian Hetherington, has called for it to be implemented quickly by government.
Related Internet Links
The BBC is not responsible for the content of external sites.