Abu Qatada appeal sought by Home Secretary Theresa May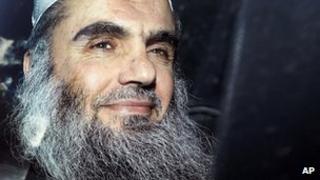 Home Secretary Theresa May has applied for permission to appeal against a decision to block the removal of Jordanian terror suspect Abu Qatada.
Papers have been lodged with the civil appeals office at the Court of Appeal ahead of a deadline later.
Abu Qatada was released on bail from jail three weeks ago.
Immigration judges had said there was a risk that evidence obtained through torture could be used at his retrial in Jordan.
An appeal in this case can be made only on a point of law.
The home secretary said at the time of the ruling that she "strongly disagreed" with the judgment, claiming that the Special Immigration Appeals Commission (SIAC) had applied the "wrong legal test".
'Completely fed up'
The radical cleric faces a re-trial in Jordan for allegedly conspiring to cause explosions on Western and Israeli targets in 1998 and 1999. He was found guilty of terrorism offences in his absence in Jordan in 1999.
Security chiefs believe he played a key ideological role in spreading support for suicide bombings.
Last month the Special Immigration Appeals Commission chairman Mr Justice Mitting ruled he was not satisfied that the preacher would be tried fairly in Jordan.
And Abu Qatada was released from Long Lartin prison, in Worcestershire, after spending most of the last 10 years in custody.
He is the subject of bail conditions that include him being banned from travelling on the Tube, or by train, car, motorbike or bus and from using mobile phones and computers.
Prime Minister David Cameron said he was "completely fed up" at the cleric's release on bail.
On the question of why the Palestinian-born Jordanian had never been prosecuted in the UK, Lib Dem peer Lord Macdonald - director of public prosecutions from 2003 to 2008 - told BBC News he had never been shown any evidence to support a criminal prosecution.
A judge will now consider the home secretary's appeal application by examining documents on the case.
The judge may make a decision, or decide that the application should be dealt with at a court hearing.
A decision is expected to be made before Christmas.
If the judge decides to refuse the application, the home secretary can ask a court to reconsider the matter.