Newspaper review: Press braced for Autumn Statement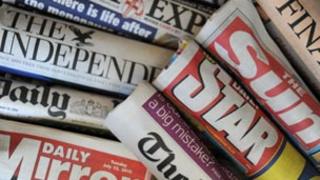 The day's press is looking ahead to the chancellor's Autumn Statement, which is expected to be somewhat gloomy.
The Financial Times believes George Osborne is going to extend austerity until 2018.
The paper says Mr Osborne's hopes of completing his austerity drive before the 2015 election "lie in tatters".
The Times says Mr Osborne will raise taxes on banks for a fifth time, in what the paper calls "a bleak mini budget".
According to the Guardian the chancellor is facing criticism for reducing NHS spending in England and for failing to sufficiently cut the deficit.
The Independent believes that another 13,000 civil servants face the sack in a new round of of public sector job cuts to be announced by Mr Osborne.
The paper says Mr Osborne will argue that a £5bn "bonfire of the civil servants" is necessary so he can boost the economy.
Royal pregnancy
The Daily Express leads with the news that Commonwealth leaders have rushed through a law so that if the Duke and Duchess of Cambridge have a girl, she will be heir to the throne.
The Daily Mail's picture of Prince William after visiting his pregnant wife in hospital has the headline: "The smile that says Kate's getting better".
Other papers include the same picture on their front page. "She's doing swell", is the Sun's headline, while the Times says the smile reveals that Kate is "on the mend".
But, according to the Daily Mirror, the Duchess's morning sickness could keep her on a drip for weeks.
The Guardian reports on Office for National Statistics figures which show that we are cutting back on clothes and furniture to make ends meet.
The Independent says the average British family now spends £483.60 a week - £14.60 less than a year ago.
The paper concludes that the figures tell a tale of "unavoidable expense and declining living standards".
Wintour discontent?
The Daily Telegraph leads with Britain's pledge to give almost £2bn in "climate aid" to help finance foreign projects, including wind turbines in Africa and greener cattle farming in Colombia.
The paper says each UK household will contribute £70 to schemes to tackle climate change in developing countries.
According to the Times, the United States is ready to launch military action in Syria "within days" if President Assad resorts to using chemical weapons.
And under the headline: "The devil does democracy" the Times also asks whether the editor-in-chief of American Vogue for the last 25 years, Anna Wintour, is about to be appointed the US ambassador in either London or Paris.
The Independent cites her "frosty demeanour, aloof inscrutability and famous lack of small talk" and concludes that British-born executive would make an "unusual diplomat".