Abu Qatada: Home Secretary wins permission for appeal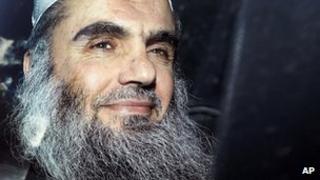 Home Secretary Theresa May has won permission to appeal against a decision last month to block the deportation radical cleric Abu Qatada to Jordan.
Government lawyers will now be able to argue the Special Immigration Appeals Commission (Siac) was wrong to block the preacher's removal.
A senior judge ruled Jordan had not proved Abu Qatada's retrial would be free of evidence obtained by torture.
The preacher is currently living under strict bail conditions in London.
No date has been yet set for the Court of Appeal hearing during which Home Office lawyers are expected to argue Siac wrongly interpreted the law relating to the preacher's right to a fair trial.
A Home Office spokesperson said: "We are pleased that the Court of Appeal has granted us permission to appeal against Siac's decision on the deportation of Abu Qatada.
"As we have said, the government strongly disagrees with Siac's ruling, and we remain committed to deporting this dangerous man."
The Court of Appeal case will be on the narrow issue of whether the Siac judgement was wrong because of a misinterpretation of the law, rather than the question of whether the underlying facts were incorrect.
The radical cleric faces a re-trial in Jordan for allegedly conspiring to cause explosions targeting Western and Israeli targets before the year 2000.
He was found guilty of terrorism offences in his absence. Security chiefs believe he played a key ideological role in spreading support for suicide bombings in Europe as one of the most prominent theologians advocating violent jihad.
Last month the Special Immigration Appeals Commission ruled it was not satisfied the preacher would be tried fairly in Jordan because the case could include evidence obtained by torturing his former co-defendants. The use of such evidence is banned under British and European law.
In January, the European Court of Human Rights ruled the preacher could not be deported until Jordan gave an assurance that torture tainted evidence would not feature at his trial.
Ministers lobbied Jordan for more assurances, leading the home secretary to tell MPs she believed she had struck a deal that would satisfy judges. But the failure to convince Siac meant the preacher could not be held in prison any longer and had to be released on bail.